Shower Options for Mobile Living
Staying clean while you are living on the road can be a challenge. It usually involves the arduous task of finding a gym with a shower or a cold lake to reluctantly jump in, but it doesn't have to be that way. We shared a Complete Guide to Van Life Water Systems including a diagram of how it all fits together, so it is possible to have a bathroom in a van if you want to.  Even if you don't have a full bathroom, there are still ways to stay clean on the road  In this article we're looking at what are the Shower Options for Van Life.
We have spent time researching the best and most popular Off Grid Shower Options so that you can decide which is the right one for you.
*European Options Included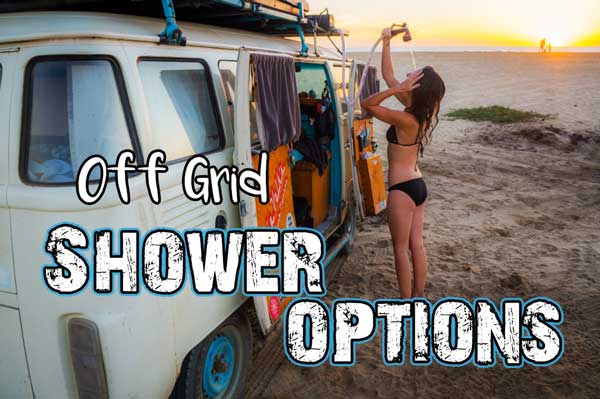 Below are a variety of Shower Options that are best suited for Campervans and Mobile Living:
Installed showers
Having a fixed permanently installed shower is the best option. If you have the space a purpose-built tank can be installed and water fed to a shower nozzle/head via either an electrical or manual pump. A custom shower curtain can be erected around an open door for privacy.
You will need an LPG / Gas / Propane system set up for the following options, but don't worry we have a free guide on how to safely build a propane system for campervans.
Having a Tankless Instant Water Heater is a GAME CHANGER for Van Life
Eccotemp  Portable Tankless Water Heater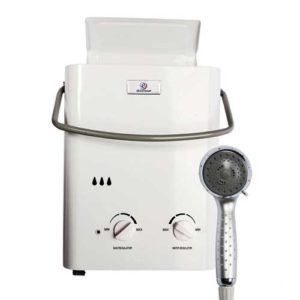 More Info and reviews on Amazon
Liquid Propane Fuel – connects to a standard propane tank

Battery Operated for Use Off the Grid- 2 D Cell Battery Ignition

Minimum Flow Rate of 0.3 Ltrs Per Minute

Needs 20-80 PSI of water pressure

Lightweight for Easy Portability
Easy Setup
This heater produces hot water within seconds. You can choose from multiple spray settings to select your preferred water pressure. The heater provides a temperature range of 80 to 150 degrees Fahrenheit, starting at a .5 gallons per minute (GPM) flow rate and going up to 1.4 GPM. After 20 minutes, the water heater shuts off automatically for added peace of mind.
Camplux 6L Tankless Instant Water Heater
KOMBI LIFE RECOMMENDED
CAMPERVAN SHOWER OPTION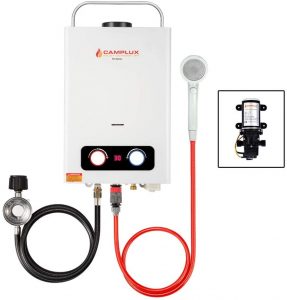 Specs and Price on Amazon
European Option Amazon
Activates by water flow from the moment the faucet is opened
No electrical connection required
Very Energy Efficient
Includes Auto Ignition
Compact Design
Stainless Steel Heating Element makes it last longer when using outdoors.
Heats an unlimited volume of water as needed.
This water heater is an energy-saving design that heats up in seconds and uses propane only while water is flowing. Available in LP and natural gas models. It activates by water flow when the faucet is turned on. Works easily with low levels of water pressure.
Kombi Life Top Tip

These showers are great, but the shower heads are not fantastic.  For Van Showering (and home) we recommend getting a
water-saving showerhead with a push button
, so you can easily and quickly save water whilst you soap up.  In our opinion, this is an ESSENTIAL upgrade for van life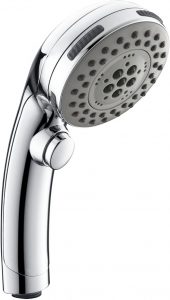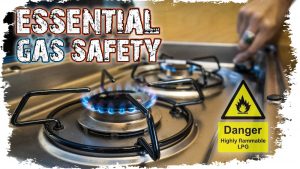 Solar Roof Rack Shower

Learn How To Make Your Own Road Shower HERE!
Attaches to your vehicle rack
Heated water from the sun
Good for washing dishes, rinsing off gear, or washing the dog
You can also have a semi-permanent installed shower, gravity-fed and heated by the sun. Obviously, if there is no sun then you're having a cold shower, so this isn't always ideal. The model shown above is called The Road Shower.  It carries about 6 gallons (22.7 Litres) although the hot water only lasts an hour or so after the sun goes down so planning your shower while the sun is still up is ideal. You have to pressurize it using a bicycle pump (not included), the latest version of The Road Shower has an air chamber so the pressure remains good for longer.
Road Shower Alternatives
The Road Shower is kind of pricey, to be honest, but thankfully there are alternatives to the road shower that are appearing on the market.
This one can either be mounted high on your rack or low on your tow hitch bar which is much safer and better for vehicle handling.
Wash off equipment, shoes, mud, shovels, and most importantly hands BEFORE you enter your vehicle.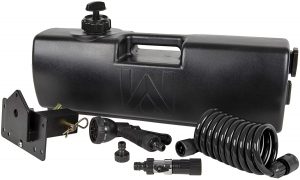 Whatever water system you decide to install, it is worth keeping in mind how convenient an outside water system is,
so if you can, try to have outside water in addition to your inside sink
Budget Installed Shower Option
If you consider yourself a bit of a MacGyver, a cheaper option is a homemade shower which can be made by using some Black PVC tubing and attaching a hose to the end – we made one that we used on our journey through Latin America and it worked just as well as the much more expensive aluminum version above.  All the parts can be found in the plumbing section of a local hardware store.  If you are going to make your own, the main challenge is finding a way to have an exit hole at the bottom of the pipe so that all of the water can come out.  You'll want to minimize the amount of play and stress that can be put on the tap fitting as too much movement will cause a leak in a short time.  Also nylon threaded nuts don't work as well for this job as metal.  Also, keep the number of joins to a minimum.  Black pipes work best as they attract the most heat during the day.  Go get creative! 🙂
Check Out Our DIY Solar Shower Video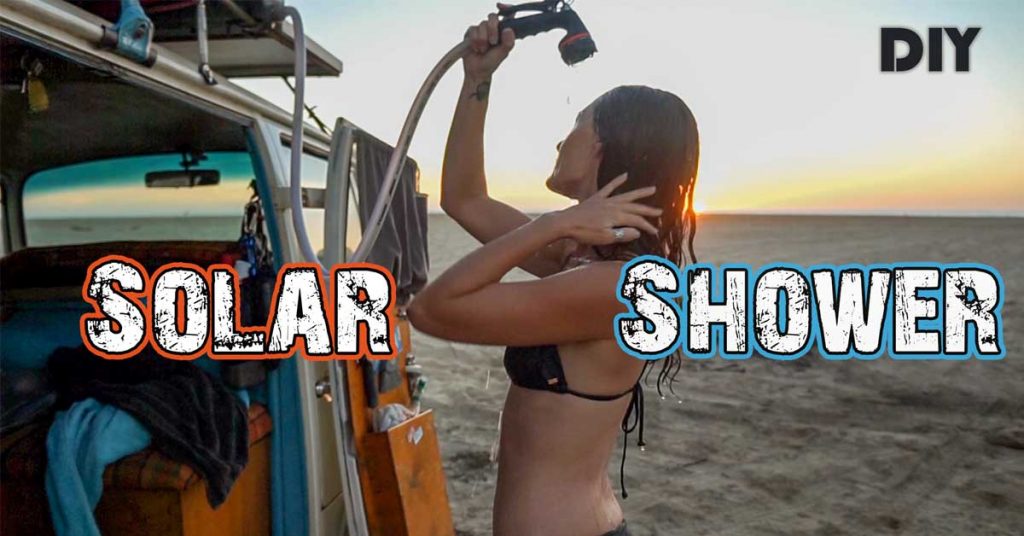 Luxury Option
The most luxurious option is to have a dedicated tank and electrical (or mechanical) pump to give you a 'real show'. By using a heat exchanger, as seen in marine applications, you can use the heat generated from your engine to heat your onboard water tank whilst you drive. More info about this method is here.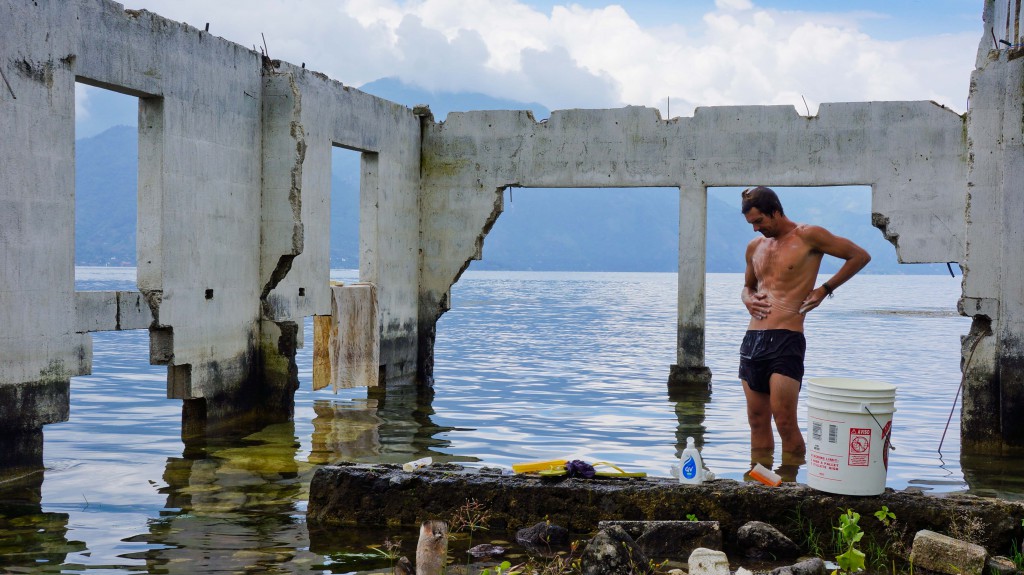 Portable Shower
It's a bit of a space hog, we admit – but for some people that space is well spent on having the ability to have a hot shower. These devices use propane to instantly heat their self-contained water supply. Some products use batteries; however, we recommend that you go for the option that uses a 12v supply that can be hooked up to your vehicle.
ZODI Outback Portable Shower Kit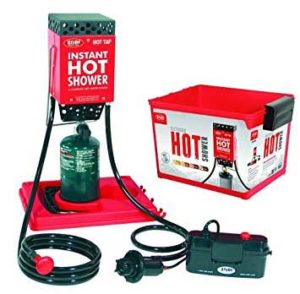 Variety of Portable Shower Options from Zodi on Amazon
Attaches to 16.4-ounce propane cylinder or 5-gallon propane tank (with kit)

6-volt water pump with pushbutton ignition; 8-foot hose with shower head

4-gallon storage case doubles as water tank (holds enough water for a 10-minute shower)

Temperature adjusts up to 100 degrees F.

Case measures 15 x 10 x 10 inches (W x H x D)
Easy to use by adding four D-cell batteries to the waterproof battery case, connect the propane heat source, and submerge the self-contained 6-volt water pump in a clean water source. If you're in an area without an easily accessible water source, you can use the rugged 4-gallon travel case as a water tank instead. The tank holds enough water for a 10-minute shower and refills in seconds.
Winterial Pressurized Solar Heated Shower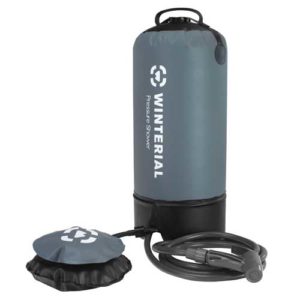 Check out the reviews on Amazon
European Prices and Reviews on Amazon
Compact and Lightweight – Only weighing 2lbs this pressure camping shower makes it easy to travel with.

Can hold up to 11L of water

Heats water in the bag when placed in the sun. Capable of holding water that is up to 120 degrees Fahrenheit 

Pump to pressurize: To pressurize simply pump the provided foot pump to inflate the bag. The pressurized camping shower will hold the water pressure up to 5-7 minutes

Portable: The shower can be hung from a tree to provide the best water flow
Solar shower bags
These are convenient to fill up and hang up to in the sun when you have settled down for the day. Unfortunately, you can't really store the bag permanently on your vehicle when you are traveling but it's a great option if you're setting up camp for a few days. We recommend having one of these regardless of other options as the collapsible solar-heated format works great when you know you'll be needing extra capacity for a few days.
Coleman Solar Shower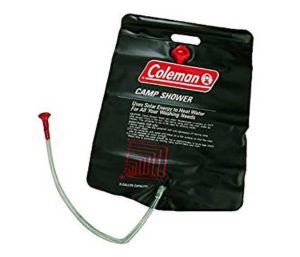 Sizes and prices vary – Amazon
Advanced Elements Summer Solar Shower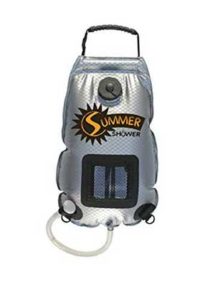 Sizes and prices vary – Amazon
Here is a 10 Gallon / 40 L Portable Shower Bag – we wouldn't recommend having one larger than this.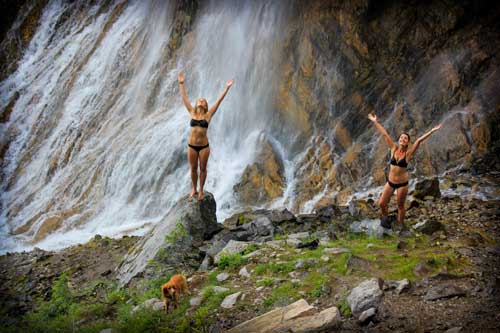 Weed-Killer Shower
Repurposing a 1 gallon (or larger) spray bottle used in agricultural applications can give you a small portable shower. They are best used with a little help from a friend. Make sure to paint the bottle black so that it can heat up quickly in the sun but leave a strip unpainted so that you can still see how much water you have left.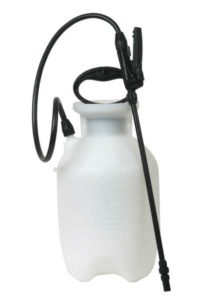 You can get these weed killers from any home and hardware store. There are some really cheap ones on Amazon but keep in mind that you need other attachments if you want to add a showerhead onto the weed killer.
If you are intending on getting extra parts to make your weed killer shower you could just get a similar portable shower that is already made for just a few extra dollars.
Razor Reef Portable Surf Shower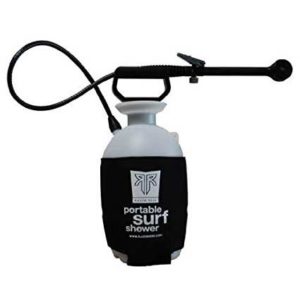 Portable Surf Shower (also for non-surfers) 😉 on Amazon
Neoprene

No batteries needed

1.5 Gallon tank holds 1 gallon of water

1 Meter poly hose
The Bucket Option
If you don't have either of those a collapsible bucket and a cup will do the job, we call that an Indo-shower because that's how they shower in southeast Asia, particularly Indonesia. This method might get old quickly but it's an option if only temporary.
An option if you only have a bucket is to get a portable handheld shower which works by sucking up heated water from a bucket.
Ivation Portable Handheld Shower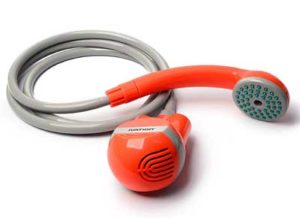 Buy from Amazon if this is the camp shower for you.
Easy to Use with Water From a Bucket

Rechargeable via USB

Active, Built-In Water Filtration System

For a hot shower, water needs to be heated in the bucket before use
A waterproof, battery-powered portable shower drawing water from virtually any bucket, basin, or sink. It has a built-in rechargeable 2200mAh lithium battery which powers the shower for up to 60 minutes on a single charge.
The Baby Wipe Shower
We've all heard about the infamous baby wipe shower and hopefully, this is only used as an emergency option or used in between a real shower. We suggest that you should always have a packet of baby wipes handy and ONLY use ones that are antibacterial. If you are going to clean yourself with wipes they at least need to give you a proper clean.
The antibacterial body wipes are a bit harder to find in stores (stay away from the antibacterial house cleaning ones – they'll bur your bits!) but there are a few online.
Antibacterial Body Wipes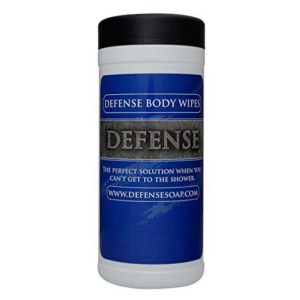 We buy our body wipes online via Amazon because the majority of "baby wipes" available on the high street aren't antibacterial.
Clinically proven natural tea tree and eucalyptus oil provides benefits effective at helping wash away bacteria, viruses, and fungus
Natural, free, and clear of fragrances, dyes, cosmetics, petrochemical compounds, triclosan alcohol, or sodium lauryl sulfate
Really Desperate?
You could always wait for it to rain…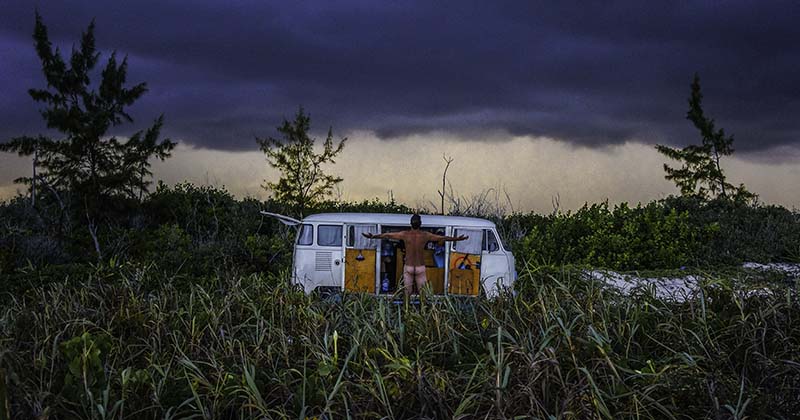 ---
 The products in this article are affiliate links which means that we get a small percentage for researching the products but will cost you nothing extra.
Recommended For You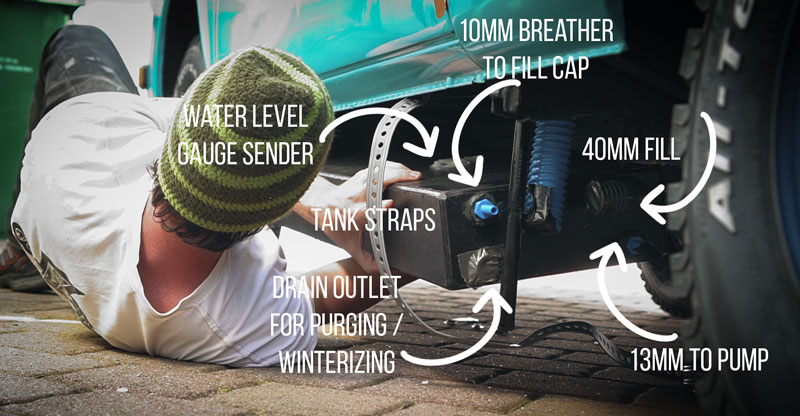 Do You Live In Your Vehicle?
(You may need a guide)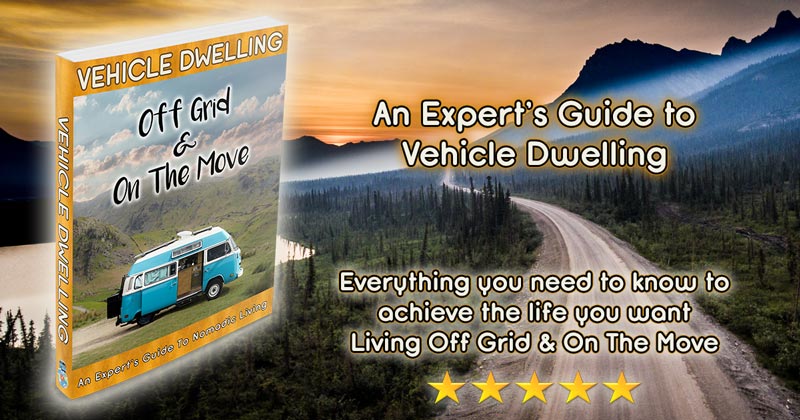 Tell us what you think?