Roof Rack Solar Shower
Starting Van Life requires you to setup your vehicle for few fundamental daily needs. Cooking, Sleeping and Washing are the main 'everyday needs' that come to mind, so what are going to be your options for Keeping Clean On the Road
If you (like many van dwellers) can not live without having a shower available in your vehicle there are plenty of Shower Options suitable for mobile living that you can buy but that is not what this post is all about.
This post is going to show you how YOU can make your own pressurized, roof rack solar shower for your vehicle. Sounds good right? Let's get started!
DIY Road Shower
ROOFTOP SOLAR SHOWER SPECS:
Capacity: Approximately 18.5 Liters (5 gallons)
Total Length: Approximately 2.3 meters (7.5 ft)
Weight When Full: Approximately 21 kgs (46 lbs) 
Peak Water Temperature: Approximately 49 C (120 F)*
Maximum Recommended Pressure: 18 PSI
Total Cost to Make: $70 – $120 USD (depending on location)
Assembly Time: 30 minutes… including test shower 😉
(*given ambient outside temperature of approximately 30 C (86 F) and exposure to direct sunlight)

What You Will Need
Supplies:
1 x 6′ by 4″ black PVC (or ABS) Pipe (the thicker the better, try sewer pipe…new, not used)
2 x Y Adapter 4″ to 2″ converter
2 x 4″ to Screw Thread adapters with rubber gaskets (only required if not using fixed end-caps)
2 x end caps screwed or fixed, your choice
1 x 2″ to thread
1 x 2″ threaded end-cap (with rubber gasket)
1 x 2″ receiver for the thingy below
1 x 2″ standard tap thread cap
1 x standard hose tap
1 x pot of quick drying PVC cement – make sure it is non-toxic, like this one
1 x PTFE tape for tap thread
1 x quick release system for hose (optional, not pictured or used in this video, but still a good idea)
1 x Flexible (or non-flexible) Hose
1 x multi-spray pattern hose end.  (Avoid the one with the plastic thread)
1 x water jug lid kit (you only need the tiny piece of plastic used for pressure relief)
4 – 8 x 4″ Heavy Duty jubilee clips for mounting
2 – 4 x u clamps for mounting to roof rack (optional, depending on your rig and setup)
1 x Schrader valve for pressurizing shower (optional but a pretty cool upgrade)
1 x Epoxy glue to install Schrader valve if required (optional)
Tools Needed:
Flat Head Screwdriver
Rubber Mallet (or 1 green coconut)
Drill for Pressure Relief Valve (optional but recommended)
PVC End-cap Tool, or wide box head wrench to tighten the end-caps (optional, but may leak without it)
Assembly
It isn't rocket science, you wont classify as a mechanical engineer once you are finished. Glue the pieces on both side and put them together with a quarter turn to snug them down.  The PVC Cement dries in 30 seconds, but can be much quicker on a hot day.  Use your rubber mallet or coconut if you need to encourage the parts together.
Don't fill it with water until you've lifted it on the roof.  Don't drive anywhere until you've strapped it down….but you already knew that, didn't you? 🙂
Pressurize Your Shower
Your shower will be self pressurizing with the heat from the sun.  The more air you have in the tube the quicker it will heat up and the more pressure you will have.  The shower pressure is mainly supplied by gravity, the higher you mount it the better your shower pressure will be.
You can add a Schrader valve (like the ones you see on a bicycle tire) into your shower.  You can either epoxy on a nut so you can screw in the valve or epoxy the value directly into your shower.  If you are going to do this you should install it as well as possible and preferably onto a flat area with thick plastic.  The lids work well for this.
You can add air via either a small tire compressor or with a bicycle pump.  We had a hand pump zip-tied to our shower.
WARNING: If you are going to pressurize your shower with air you really should have a pressure relief valve installed!  The plastic one shown in this video wont withstand 18 PSI.  You could adapt a lid from a car radiator to provide a functional pressure relief valve.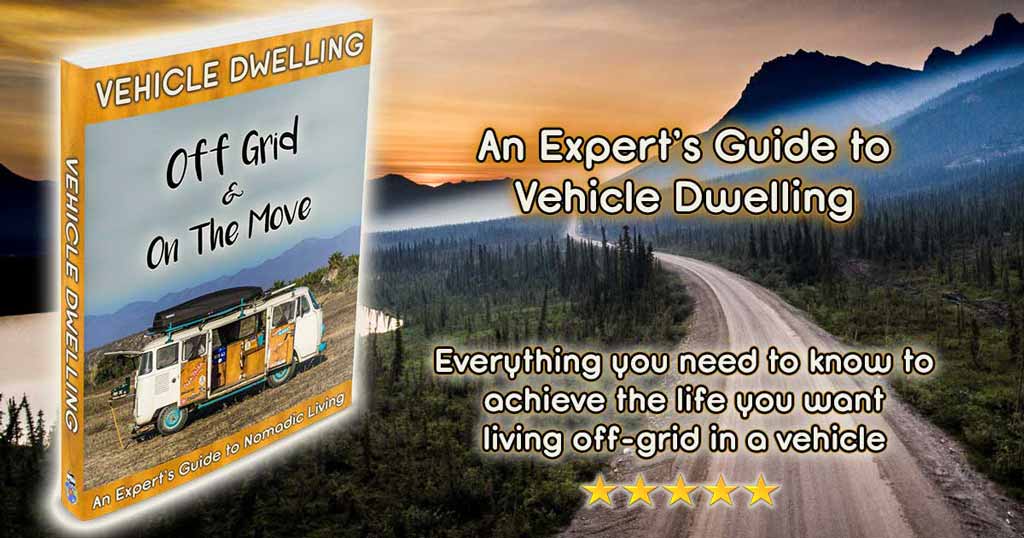 Mount It Onto Your Roof Rack
Be sure to mount it well, it's very dangerous if you don't! Also the shower will last a lot longer if you ensure that it has minimal movement when you are on the trail.
Be sure that your vehicle gutter is strong.  Our gutter ripped off after long term use.  This may or may not have been due to rust, but the extra weight of the shower sure didn't help.  We typically advise people to keep the weight in their adventure rig low and centered, so high and on the side is the opposite of this.  Be sure than your rig is capable of handling this load and take into account balancing the overall weight of your vehicle and it's occupants when planning where you will install the shower.
Driver Side Mounting – Good because it keeps your access ground dry. Bad because you have to leave your main entrance way whilst showering which can be a security risk
Passenger Side Mounting – Good because it's easy access to living space and better load balancing against the driver. Bad because you muddy the floor and can track that dirt through into your living quarters
Customized Design Considerations
The shower will be more likely to leak if you have multiple sections of tubing joined together.  One continuous piece of PVC tubing works best.
Screw thread end-caps are more prone to minor leaks (and more expensive) than fixed end caps, but they do allow access for cleaning (which is desirable for long term use)
The more your roof top shower flexes the more likely it is to spring a leak over time, especially if you drive off road.  Secure it well!
If you are overlanding, be advised that the availability of the parts you use is not guaranteed.  We had to rebuild our shower from scratch because we lost the filler cap
If you can't find black PVC tubing, you can always paint it with black matte paint, it works almost as good.
If you can weld Aluminum we recommend you take the same(ish) design principal and make it out of aluminum for a more durable solution
What We Like About Rack Mounted Showers
It's out of the way of your living space.
You don't have to get your shower out at camp, it's already out.
It's easy to fill and use.
It's always getting hot (unless you're in Alaska)
It's a reasonable amount of water capacity
It's solar heated and fairly environmentally friendly
What We Dislike About Rack Mounted Showers
PVC made showers can sometimes leak, depending on how well you make them.  Aluminum is obviously more durable
Availability of parts and pieces isn't the same everywhere if you travel internationally
If one seal or part breaks it can mean replacing a whole section
Unpressurized showers don't have good water pressure on low-top vehicles.
People are forever asking your what that tube thing is on your roof.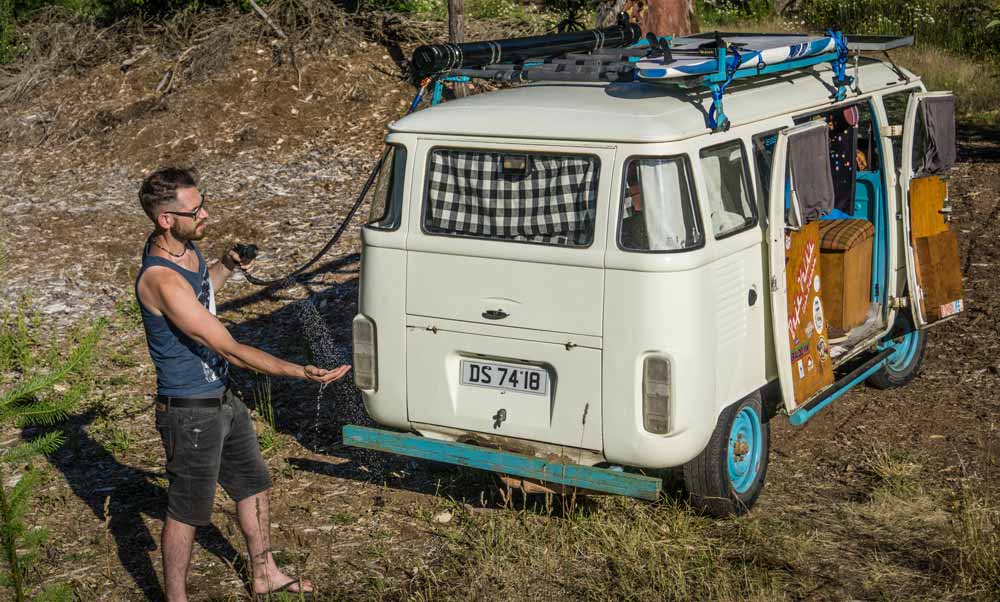 Check out this DIY Custom [ENGINE HEATED] Hot Water Shower
You may also like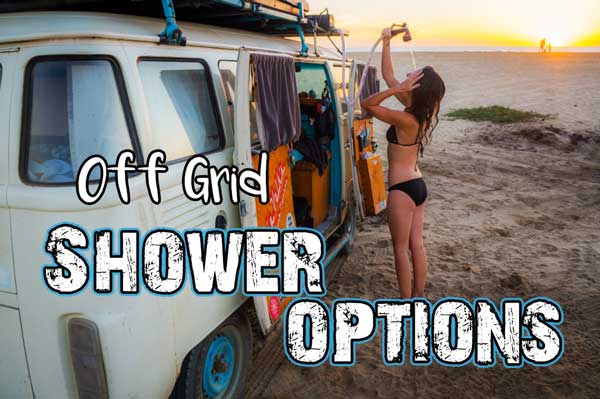 Thanks Guys! Let us know how you are doing off grid water for your adventure rig so that we can all learn from each other.
Leave us a comment below!