Keep Food Fresh On The Road
 
On this page, you will find a list of fridge and cooler options for all budgets of tiny mobile living whether you are doing the vanlife thing or out exploring in your truck or RV.
It's important to note that you don't necessarily need a fridge or cooler.  We survived many years on the Pan-American highway without a fridge during the Hasta Alaska Expedition.  The advantage of being fridge-less is that you don't have a continual draw on your onboard resources, such as propane or your house auxiliary battery, it's one less thing to go wrong and you can save some money from the purchase which can be used for van-based adventures.  When traveling in cooler climates we found that fresh produce lasted a long time if stored out of direct sunlight and we always had enough canned and dry food to see us through up to 2 weeks off-grid, so it can be done.
Our recommendation is to have some sort of cooler or fridge on board if you can afford the space and money.  Van life can be quite uncomfortable at times, and as discussed in our Expert's Guide to Van-Life, anything that you can do to make tiny mobile living more comfortable is well worth it.  So, even though we've lived without a fridge, we recommend that you get one!
Choosing a Fridge or Cooler for your vehicle can be confusing, especially if you are unsure of what the options are. So here we've listed the three options for Campervan Fridges and Coolers that are most commonly used by Van Dwellers and RV folk.
To make it easier we've researched the most popular and highly rated brands of Coolers, 2-Way, and 3-Way fridges, and listed the specs for you to be able to compare and decide which is the best option for your rig:
Coolers / Ice boxes Options
The cheapest option to keep your food and drinks cold is the iceboxes. Ice coolers are ideal for those who need temporary cooling such as for short trips away or for those van dwellers that do not want to use up their solar or electricity.  Coolers just need to be refilled with ice which can be a pain if you need to do it often or if you are going off-grid. The more expensive units can hold the cold for longer.
Cheapest Option
Rubbermaid Cooler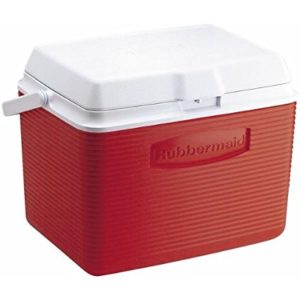 4.5 Star Review – Cheap Price – Amazon
*European Options May Vary
24-Quart

Superior thermal retention keeps food and beverages cold.

The top swing handle makes it easy to carry.

Stain and odor resistant.
Best Value Option
Coleman Xtreme 5 Wheeled Cooler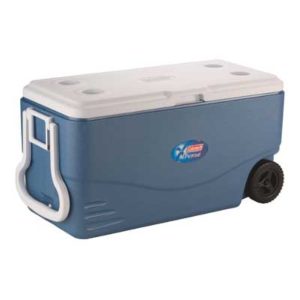 Found in Walmart and Coleman Stores – Cheaper Price found on Amazon  – 4 Star Review
100-Quart

Keeps ice up to 5 days in temperatures up to 90° F (32.22° C)

Hinged lid with four cup holders keeps drinks close

Two-way handles for easy carrying

Rustproof, leak-resistant channel for no-tilt draining
Portable 12v Option
Igloo Iceless Thermoelectric Cooler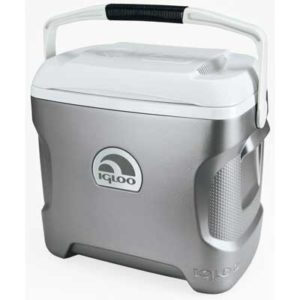 4 Star Review and Prices – Amazon
Cools without ice and leaves you more room for food and drinks

Quiet brushless motor and convection cooling with a fan to circulate cold air

The 8 feet long power cord plugs into any 12V DC receptacle (cigarette lighter) for portable use
---
2-way
Compressor Fridge Options
(recommended option)
A 2-way fridge can either be built-in to your camper or stand-alone and portable. The portable options have an obvious advantage if you have multiple vehicles, or want the option to picnic away from your vehicle.
These mini-fridges can come with a top lid or a side-opening like a fridge that you might find in a house. As cold air stays on the bottom of the fridge it's best to get the ones with the top lid for the most efficiency when living off the grid on solar power. That said, the downside of a top-opening fridge is that storing and stacking your food requires more thought and some intermediate Tetris skills.  Many Van Lifers prefer a traditional side-opening fridge as it feels more natural and is easier to access your food.
The 2-way fridge can either use 12V or A/C power which means it can be powered from your solar panels and off-grid power system if you have one.
A 2-way fridge is the most popular and least hassle option for campervans as they don't need to be leveled and need less maintenance than the 3-way fridge. It's also a good option to have your fridge portable to give you the option to move it out of your vehicle when the inside temperature gets too hot and your fridge is overworking.
Keep in mind that if you are installing an electrical fridge or cooler that it will be a constant drain on your vehicle's electrical system. We walk you through how to calculate how much power you will need to run your fridge and your other devices whilst you are living the van life in our free (and very detailed) guide to electrical systems for campervans.
 

Cheapest Option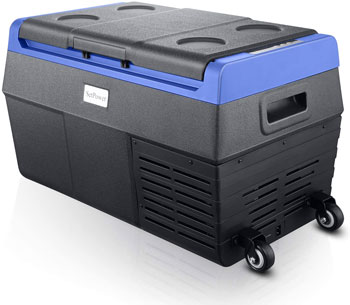 Priced on Amazon $229 (USA)
Seven-stage temperature regulation for cooling and heating

Includes a Power-Save circuitry switches on when the desired temperature is reached

Easy to read LED temperature display, wear-free fan

Detachable lid with magnetic lock

Sturdy, fold-away handle
Recommended Options
Dometic CRX50

(Best Build Quality)
(This is the Fridge that we are using and we love it)


12/24V DC

47-liter (1.65 cu. ft.) gross capacity 

6-liter (0.22 cu. ft.) freezer capacity 

Very low current draw
Extremely Quiet Operation

The freezer compartment is removable to allow more space for items needing refrigeration  

Continuously variable thermostat 

Low-voltage protection 

The door lock's venting mechanism holds the door open slightly for easy defrosting and mildew prevention when not in use (handy!)
IF YOU HAVE SPACE IN YOUR VEHICLE WE RECOMMEND GETTING THE LARGER 65L VERSION (if you can find it)
POPULAR
DOMETIC CR

X65
This is the big brother of the one we installed in our Kombi. We have the 50L Version in Stainless Steel.
This is one we would recommend to you.  The extra capacity is worth it.
We also recommend getting this black one rather than the Stainless Steel one as it looks cleaner.

Ultra-Efficient – It has a draw of about 1-1.5A per hour under normal conditions.
3-in-1 design. Fridge, Freezer, or both at the same time.
12V / 24V compatible.
Venting System for defrost / storage to prevent mold.
Space-Saving Design
Approximate Dimensions – Depth 545mm (21.5″), Height 525mm (20″), Width 448mm (17.5″)
Compare prices and read reviews on Amazon 
BEST BUDGET 2-WAY FRIDGE FOR CAMPERVANS
SMAD 12v / AC Power Budget-Friendly Fridge For Campervans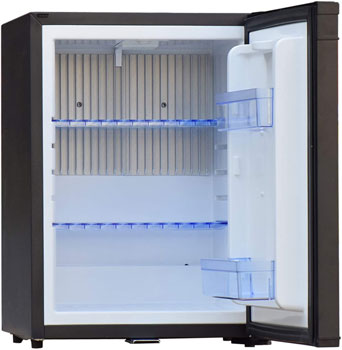 Compact sized fridge 1-1.7 cu.ft (30L – 50L)
No freezer compartment
Adjustable temperatures
Adjustable Shelves
Quiet and Reliable (good reviews)
Compare prices and read reviews on Amazon 
Also available in Europe
Engel 40 Qt. Portable Fridge / Freezer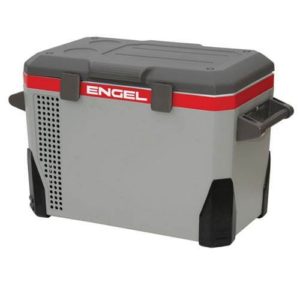 Sizes and Prices vary – Amazon 
Variable Temperature Control

Incline Operation up to 30° off level

Highly Efficient Swing Motor Compressor – Low Amp Draws (even at start-up)

100% CFC-Free Compressor

Vibration Resistant for Extreme Conditions

Known and Trusted Brand
ARB Rugged Fridge Freezer- 50 Quart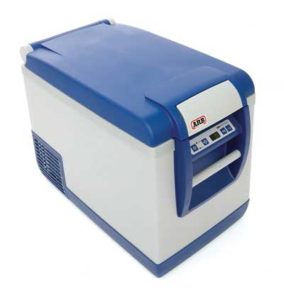 More specs, sizes, and reviews on Amazon
Can maintain an interior temperature of 0 degrees for true in-vehicle refrigeration and freezing

Continues to actively cool contents while the vehicle is off, and features an adjustable automatic battery protection system that prevents vehicle battery from total drain

Includes two power cables: the DC power cable connects to your vehicle's 12/24-volt DC power outlet, and the AC power cable plugs into a standard household AC power outlet
---
3-Way
Absorption Fridge Options
Absorption refrigerators use heat by propane gas or electricity to create a chemical reaction to cool the fridge. It can run on either propane gas, 12V, or 110/240v mains power and can be either portable or built into your vehicle.
A downside to this type of fridge is that they need to be leveled to work correctly also they need to be well ventilated and require regular maintenance. The upside is that they are quieter than the compressor fridge options and can use propane when options for electricity are scarce.  This makes them a great option for long-distance Overlanding, where being able to utilize multiple power sources is useful.
SMAD 3 Way Absorption Refrigerator 60L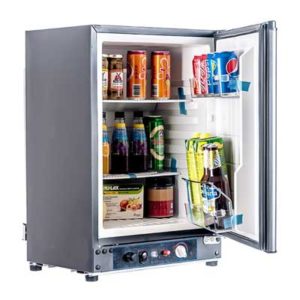 Reviews and Specs on Amazon
European 3 Way Fridge from Dometic
Easy to operate manual controls

DC12V/AC110V/LPG all available

Adjustable, removable shelves with tall container storage

No noise, no vibration, no Freon, no pollution, low energy consumption.

Voltage – 220 volts
Wattage – 150 watts

SMAD LPG Camping Refrigerator 40L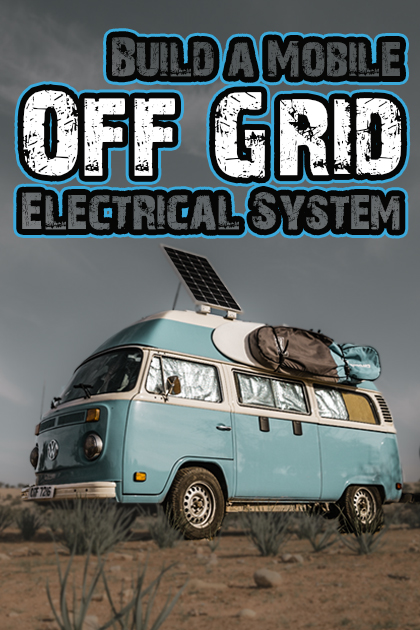 How to Build an Off-Grid Electrical System
Check out this guide if you'd like to know how to set up your rig with a propane system for extended off-grid van living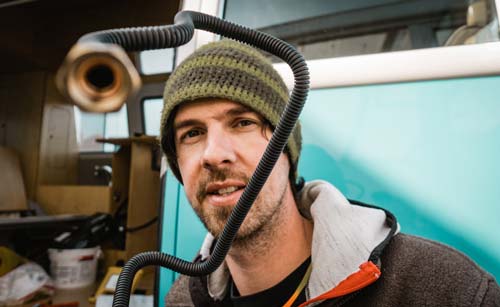 ---
Other Helpful Sites
http://www.campingworld.com/category/refrigerators/40
http://www.doityourselfrv.com/what-type-of-refrigerator-should-you-use-in-your-rv/
https://www.compactappliance.com/rv-appliances/
Recommended For You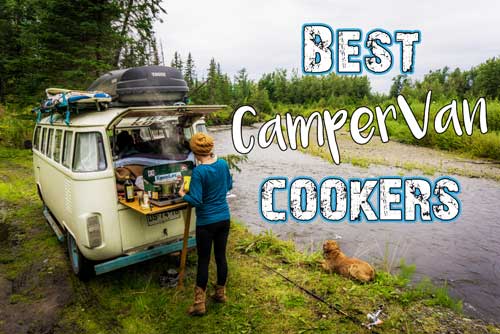 Check out our best Campervan Cooker Options for Van Life
Tell us which Fridge or Cooler has worked best for YOUR mobile life?
Tell us what you think?