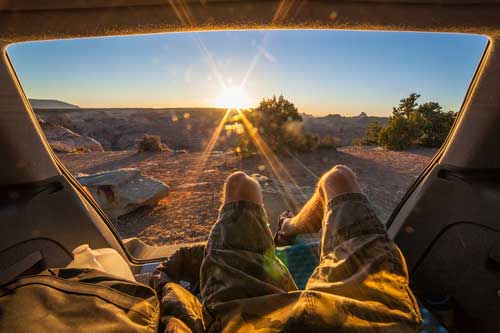 WE ALL LOVE CAMPING, or know someone that does! Whether it's weekend road trips or family vacations these camping gifts are ideal for all.
Here are some practical and fun gift ideas for the adventure seekers among us!
Travel Cornhole Game
Who doesn't like throwing things into holes?  This simple but oh-so-much-fun game is perfect to play at the campground, on the side of the road, in your backyard, and is perfect to take with you on the road. We've seen this game played a lot throughout our travels and is the best way to meet people and make new friends.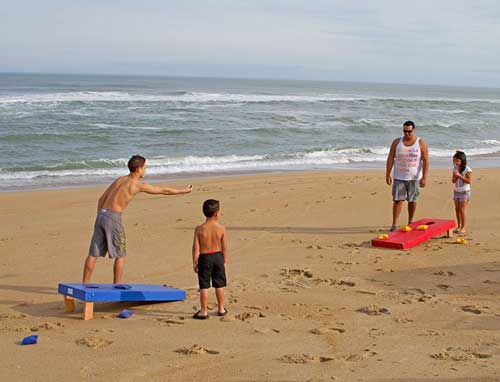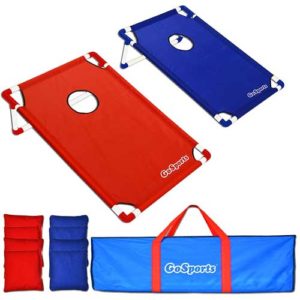 This cornhole set includes a travel case so it's extremely portable and easy to set up. Fun for the whole crew!
Tip: Drinking a beer or 2 is recommended for maximum fun!
USB Rechargeable Headlamp
You've probably seen a lot of options when it comes to headlamps but this one from Foxelli has been our favorite and for good reason.
Not only is it USB rechargeable and waterproof but it is significantly cheaper than its competitors and we have yet to be disappointed. We have given this headlamp a run for its money over the years, we pretty much use it every day, to work under our vehicle (yes, that's pretty much every day) to go to the loo at night, and gives us up to 40 hours of constant light after one charge.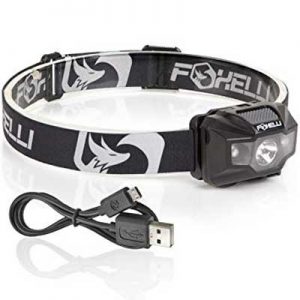 Pocket Shower
Take it from us. A WARM SHOWER IS A LUXURY!
Bathing in a lake is great from time to time but when you're camping trip is longer than that occasional weekend away then YOU NEED THIS!
This pocket shower from Sea to Summit is probably the easiest way to help your camping trip become that extra bit comfortable. The best thing is they hardly take up any space at all. Just hang it from a tree and let the sun do all the work.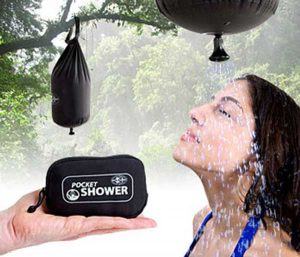 Built into the base is a compact showerhead that operates with an on/off twist mechanism to adjust the flow of water. The black fabric soaks up the sun during the day at base camp for an 8 minute-ish warm shower.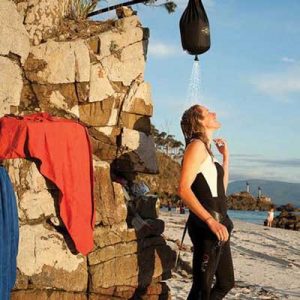 The Wash Bag
We love this gift. This is the world's smallest "washing machine" that you can take with you anywhere!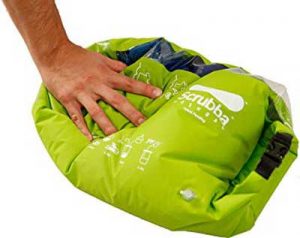 This Scrubba wash bag is easy to use by simply filling it with water, deflating, and rubbing your dirty clothes against the washboard for 30 seconds to 3 minutes.
It's the perfect gift for camping, hiking or backpacking.
LED Lantern
When your camping you want to pack things that have multiple uses. This lantern not only has multi light settings such as an emergency strobe and red light for night vision, it also functions as a charging station. Pretty handy, huh?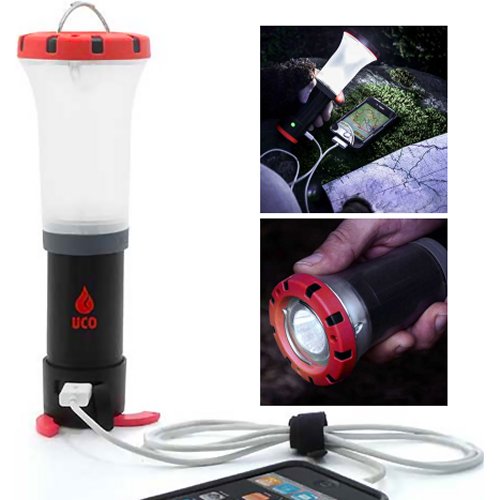 This LED Lantern is rechargeable and compact which makes it a great camping gift.
CaliCase Waterproof Adventure Case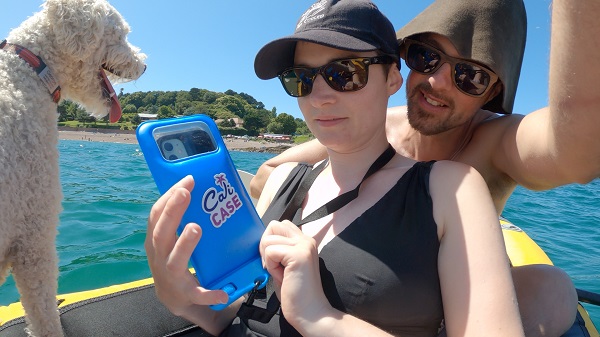 This phone case is absolutely BRILLIANT!  It's like a $30 GoPro, but often the results are better than a GoPro!
The case is super quick and simple to use and allows you to take any phone up to 100ft underwater to capture photos and videos.
The audio quality is much better than a GoPro, and so we are big fans of the CaliCase and often this is our preferred way to share content when we are out on adventures.
The best part is, the case floats and you can still access all phone functions whilst it is inside the CaliCase!  Now you can really take your phone anywhere!
This would make a great gift for any traveler and outdoor enthusiast.
Check out CaliCase on Amazon US or Amazon UK
Double sleeping bag
The best things in life are meant to be shared. That goes for sleeping bags too!
It can be hard to cuddle up to your lover when you're all wrapped up separately and even harder to keep warm. A double sleeping bag can be a great way to share body heat with your companion and have that little bit extra room while still keeping the warmth in.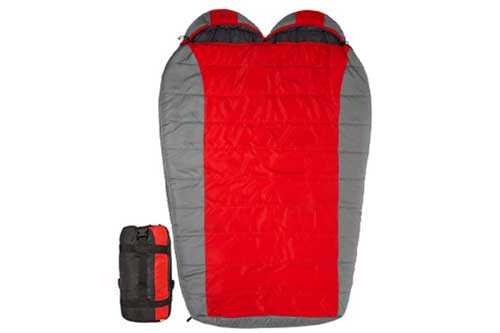 This double-wide sleeping bag is ultra-light (only 8.2 pounds) and has added insulation where it's needed most (like on your feet)
Kitchen sink
We all have that camping buddy who goes a bit overboard and packs everything but the kitchen sink.
Well now they can, and you can too!
A sink is super handy not only for washing dishes but it can also be used for bathing (the dog or yourself), collecting water or keeping your beers in cold ice.
 This Sea to Summit kitchen sink comes in different sizes and is lightweight and collapsible!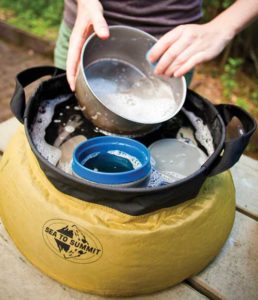 The Firestarter
This is a gift that I would love to receive. I'm pretty sure I'm not alone with struggling to always successfully light a campfire. Too many times I've just given up and gone into my sleeping bag for warmth. But with this handy tool, you'll never be without a fire again!
This fire starter also features a built-in compass and a special emergency whistle so it's a pretty handy multi-functioning survival tool, perfect for people who love the outdoors!
So a gift that will guarantee to keep your friend or loved ones warm is a good gift in our opinion.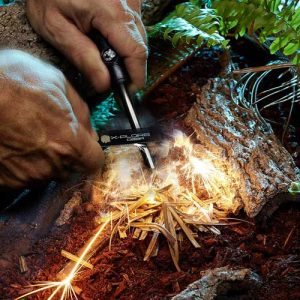 Foldable Fire Pit and BBQ
Super convenient for full-time van life and weekend camping trips, this foldable fire pit will be worth it's weight on your next trip.  Reasonable price, great product!
The fact that it folds flat makes it much more useful for camping trips and van life.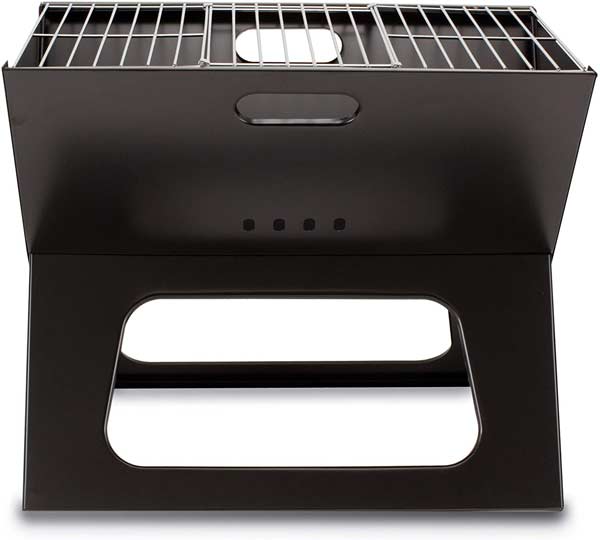 Check out availability and prices on Amazon
The links in this post are affiliate links. That means if you buy any of the products using our links we'll earn a small commission at no extra cost to you. 
Let us know what makes your camping trip that little bit better.
What can't you leave home without?
Share with us your ideas and camping gift wish list below!