Shipping, Warranty & Returns Policy
This page contains our Shipping, Returns and Privacy Policy for the Kombi Life Website and Kombi Life Shop
The short version is…there is nothing that you need to worry about, we've got your back!
FREE INTERNATIONAL SHIPPING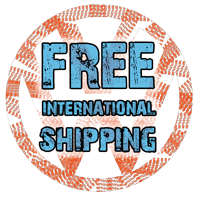 All of our Handmade Wallets, Cuff Links and Canvas Prints are processed in-house in-Kombi and include free global shipping.
We also offer world-wide shipping on the Kombi Life T-Shirts, Phone Cases and other merchandise but as they are processed out-of-house shipping costs are applied for these items depending on your destination.  Please see the Shipping Policy below.
Orders are processed as quick as possible and can be with you in just few days.  If you are outside of North America shipping can take up 20 days. Some items might be shipped separately as we like to keep the postman employed.
Shipping Policy
Estimated shipping delivery times:
USA: 3-5 business days
Canada: 5-10 business days
World: 10-20 business days
Your order will be sent out on average within 3 days of ordering.
International shipping:
STICKERS: Shipped from the UK
WALLETS, CUFFLINKS & EARRINGS: Shipped from the USA
CLOTHING: Shipped from both EU and USA (some items only ship from one location)
International shipping will take extra time and may incur customs fees. For each country the customs policy is
different, and the fee is usually based on a variety of factors like weight, value, and size.
We do not take responsibility for customs fees nor for clearing orders through customs.
RETURNS
First up it's very unlikely that you will want to return your product because we only sell quality items.  That said, we want you to be 100% satisfied with your product; if you are not, we'll make it right.
If you find any defects in the manufacture of your product we will make it perfect for you and replace at our cost.
WALLETS, CUFFLINKS, EARRINGS: If you change your mind about your purchase, please contact us send your product back to us within 30 days of purchase, and arrange to return your wallet in sell-able condition for a full refund.  In the rare instance that there is a defect in manufacture, please send it back to us within 90 days for a free replacement.
PRINTS: Refund eligibility for canvas prints includes any manufacturer's defects such as loose or wavy canvas, bubbles, scratches, or fading. If this occurs we will either replace your canvas print or fix it at our cost.  Please contact us within 90 days from the date of purchase to request a refund/replacement print.
DIGITAL PRODUCTS: Our digital content is thorough and well researched; however if you feel that the content is not what you expected please let us know within 14 days of purchase so we can review and we will be happy to give you your money back, all we ask is some feedback so that we can continue to improve our content.
T-SHIRTS & OTHER KOMBI LIFE MERCH: If there is an issue with the printing or the item is defective, let us know within 30 days of placing your order and we will make it right!  As each item is bespoke printed on demand just for you, we are unfortunately unable to facilitate exchanges based on mistakes in the order, such as wrong size or item ordered. Please make sure your order is accurate before you place it.
If you require a refund, the process can be expedited by providing a digital image of the damage or defect along with a clear description of the problem (Try to be as descriptive as you can while sending the image).
PRIVACY POLICY
If you would like further information regarding how we handle the information that you submit to this site please see our Privacy policy