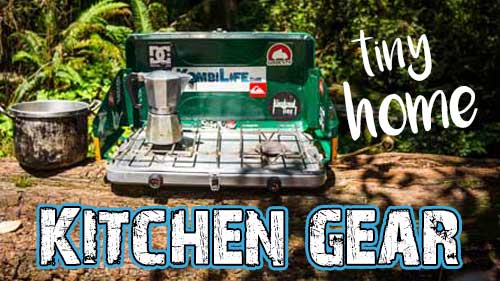 If you haven't figured it out by now, you should know that vehicle dwelling forces you to be a minimalist whether you like it or not. The great news is that you can get almost everything collapsible or made to fit into one another which makes it easier to create a minimalist kitchen in your tiny home.
We have done a lot of research when building our Boomerang our World Overland Expedition Vehicle (and home) and we've shared a complete guide to how you can set up your kitchen and bathroom water system.  In this post we're sharing the best items for this minimal and mobile lifestyle so you don't have to waste hours figuring out what items are best for your tiny mobile kitchen.
Below is a list of kitchen items for 2 people living in a van plus some of the best  multi-purpose items that are popular for mobile living.
We try to only have items that have multiple functions which means we need and have less.
Minimalist Kitchen Item Check List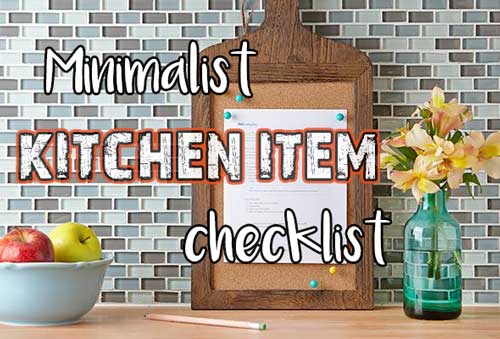 2 x Durable Plates
The plates we have found to be the best for living outdoors are stainless steel, bamboo or enamel plates. Plastic is the cheapest option but they break regularly.  These plates are more sturdy and will not get scratched or snap when they are stored in the van.

Check these designs out on
Amazon
(Sometimes out of stock – so check these alternatives here)
---
We have a few different-sized bowls that fit into each other. There are a lot of stainless steel options as well as stackable sets that don't take up much room. If you are really tight on space you can get collapsible camping bowls that fold down to be easily stored and can also double up as storage containers. Other options are to have flexible bowls which are unbreakable and can easily be stored in any tiny space.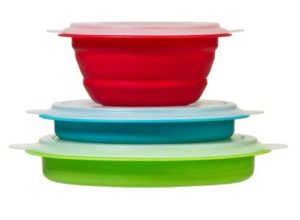 These are great to use as storage containers AND can also be used as bowls.
(Check out the European Option)
---
It's good to have spare knives, spoons, and forks for when you have guests. We do have a few spares but having a set each is all you need. Aluminum and stainless steel sets will last longer. Try not to get the cheap kind that just ends up bending when you dig into your meals. Stay away from plastic as it can often break or melt.
---

Cups that are durable and will hold in the heat as well as keep your drink cool are ideal. Some people prefer to have cups that have a spill-proof lid which is great to have for those times you want to drink and drive (coffee that is). You may want to have more than 2 cups available for when you have guests so you can have some stackable stainless steel cups for when you want cheeky drink with friends.
If you are really keen on sticking with ceramic just keep in mind that the handles will at some point break off and your plastic cups will crack at some point too.
---
Try to get one that you can re-sharpen.
(metal will ruin your pan)
You can get ones that are a 3 in 1 opener – Bottle, Jar, and Can – sweet.
This is the only one we have ever used and we believe it makes the best coffee!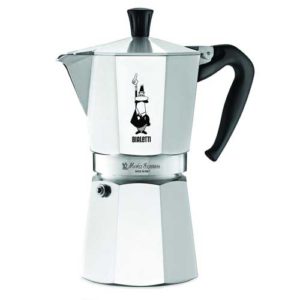 ---
 1 x Cooking pot (saucepan) set
It's your choice whether you want to buy individual pots and pans or buy sets that fit into each other. This of course saves space and there are plenty of sets that are compact as well as being high quality.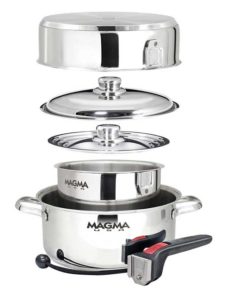 1 x Non-stick pan or cast-iron skillet
Some people prefer to cook with cast iron and are ideal to use if you love cooking over an open fire. A good quality ceramic pan will last forever – Just don't use any metal on the pan and try to avoid plastic or foldable handles.
2x Collapsible Storage Containers
These are a lifesaver for any minimalist kitchen! We always cook extra food for our next meal so we don't want to miss out on having containers because of our small kitchen.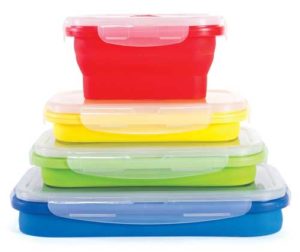 If you decided not to have the bowls that also function as storage containers (see bowls above) then you'll want these. 
Collapsible containers save A LOT of space in your tiny kitchen and can also save you a lot of cooking time by allowing you to store extra food.
1 x Flat-fold drying rack for dishes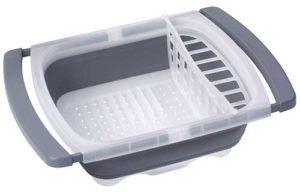 Great reviews and the cheapest we found was this one on Amazon
1 x Collapsible Sink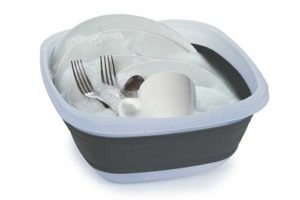 We have found that having plastic containers and buckets take up too much room and are an awkward size to fit in our tiny kitchen. Having ones that are collapsible make it so much easier to store and they are a lot studier than the flexible plastic ones you can get.
This sink had the best reviews and reasonably priced. There are some more sinks at camping stores like REI that come in different sizes and materials. But the cheapest we've found were online.
1 x Veggie Hammock

We love these veggie hammocks. It makes any vehicle that little bit more homely. Not only does it allow us to use up some empty space in the van but it keeps our fruit and veggies from getting squashed with the other food. Just make sure it doesn't bang up against the window when your driving or you'll end up with bruised fruit
Please be aware that this hammock is not going to hold your weekly shop of fruits and vegetables as it will break if overloaded.  If you are looking for a more robust hanging basket to hold more grub – we've been using this one
1 x Spice Rack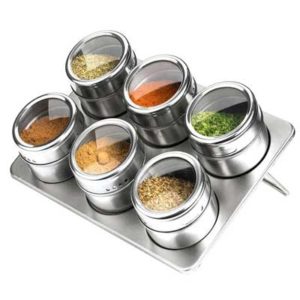 You can't have a kitchen without spices. The best way to store your spices is in a spice rack. We use to have a container with all our packets of spices and it just got way too messy. You can get ones that have magnet bottoms so you can stick them on any flat metal surface like the one shown above.
Spice Rack available from Amazon UK or Amazon US
---
Extra options
(but not necessary)
We use the lid of our cooking pot to carefully let out any extra liquid. If that's not your thing, there are collapsible space-saving colander options like the one below.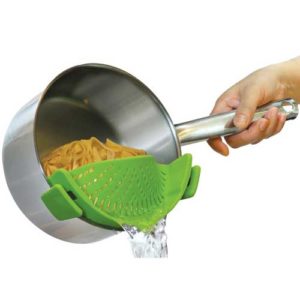 Chopping board
(if you don't want to use your plate)
We just use our cooking pot but there are collapsible options.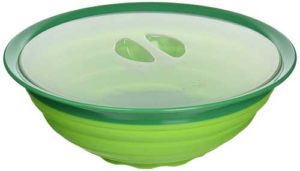 Ladle and Tongs
It is pretty frustrating not having anything to scoop liquid into bowls. Pouring it from the pot just isn't fun. We use cutlery instead of tongs but we must admit, sometimes, tongs would be nice 🙂
Bottle opener
(if you love a bit of vino)
Small blender 
Great for mixing and making smoothies,
Most are high powered, You should look for an inverter friendly blender i.e. under 300W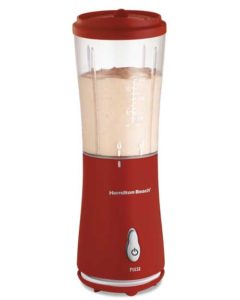 Hamilton Beach Blender 175watt 
European Option 200 watt Blender
(We have one of these in our van and it works great!)
Amazon affiliate links are included in this list which does not affect you in any way. It just means we get a small commission for researching the products for you if you decide to buy something.
---
Recommended For You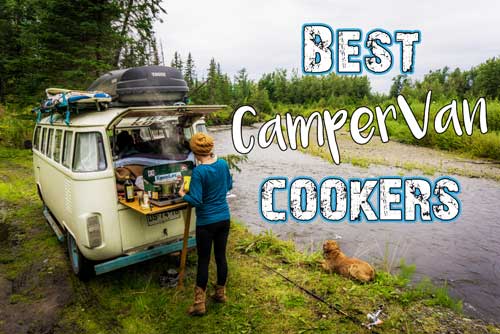 Check out our article on recommended Cookers for Campervans
---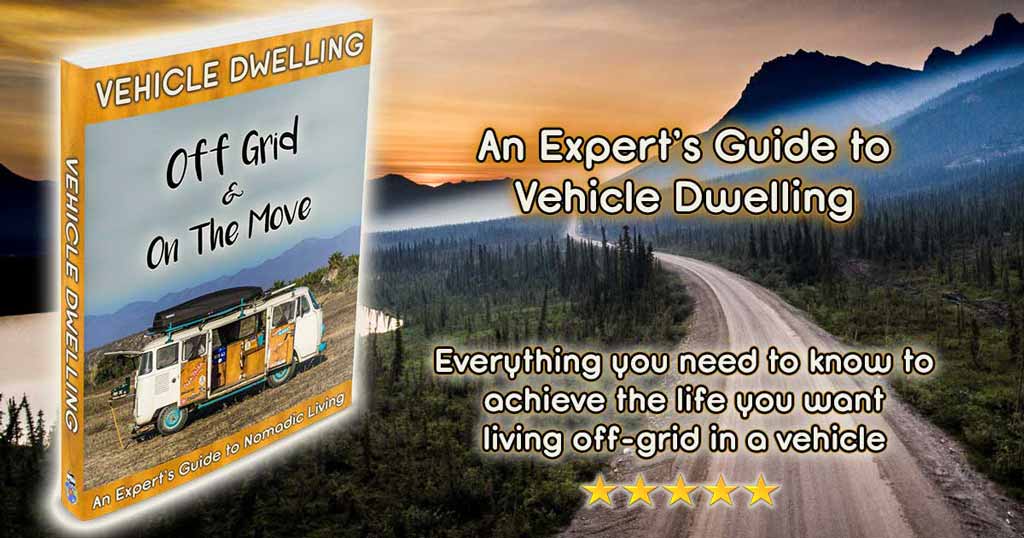 What Kitchen Item must YOU have in your tiny Kitchen?
Tell us what you think?