Keeping Healthy Whilst Living in a Van
In Van Life, keeping healthy on whilst living on the road is probably one of the most challenging things about this lifestyle, but it doesn't have to be all that hard. We must admit, we still need to give ourselves a kick up the butt when we start slacking off. With over six years and counting living and traveling in a vehicle, we know that our mind and body needs to be at it's best if we want to thrive in this lifestyle.
So, we're going to make it a bit easier for you and let you in on what we do to try and keep healthy on the road.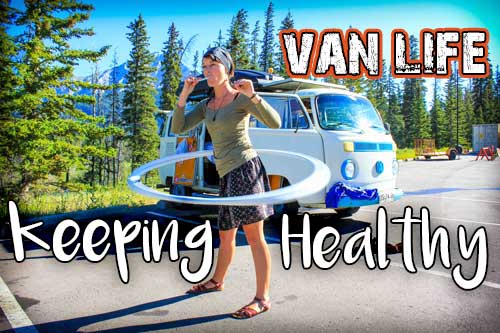 Disclaimer: This post contains some affiliate links, which means that if you click a product link and buy anything from the merchant, we will receive a commission fee at no extra cost to you. This helps us to keep making free content for you!
Yep, we're going there…
Exercise
MOVE it, SHAKE it, BEND it! – Keep your body moving and active
Let's be honest, exercise is not one of our favorite things to do. The thought of going for morning runs or pumping iron makes an engine rebuild seem like fun.
But exercise doesn't have to be difficult on the road and you don't need a gym subscription to keep fit.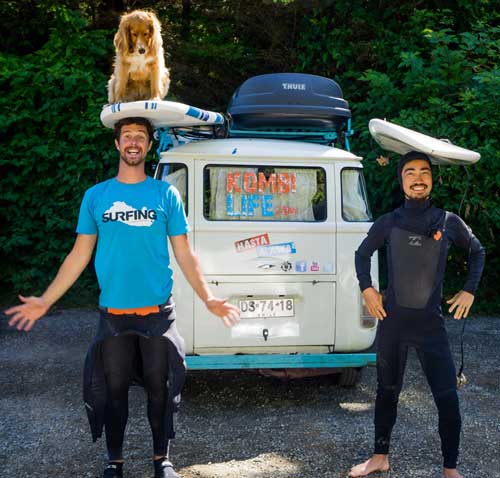 Pick up a hobby or sport that will keep your body active!
We searched high and low for a mobile travel gym that was lightwight and didn't take up much room in our van.  Here are two options that work really well.  This suspension training kit is more complete, but takes up a little extra room.  If you want the real "minimalist gym in a bag", the Fit Kit is so small it can go anywhere with you, even in your backpack when you are heading abroad.
Suspension Training Compact Gym Kit
FitKit-The Minimalist Gym
Get yourself a travel exercise mat. They don't take up much room and you can rip one out almost anywhere (preferably somewhere with privacy).
If you are like us and need a bit of guidance and motivation, you could find a local class in town or download some classes on your computer or phone, just at least until you get some poses down pat.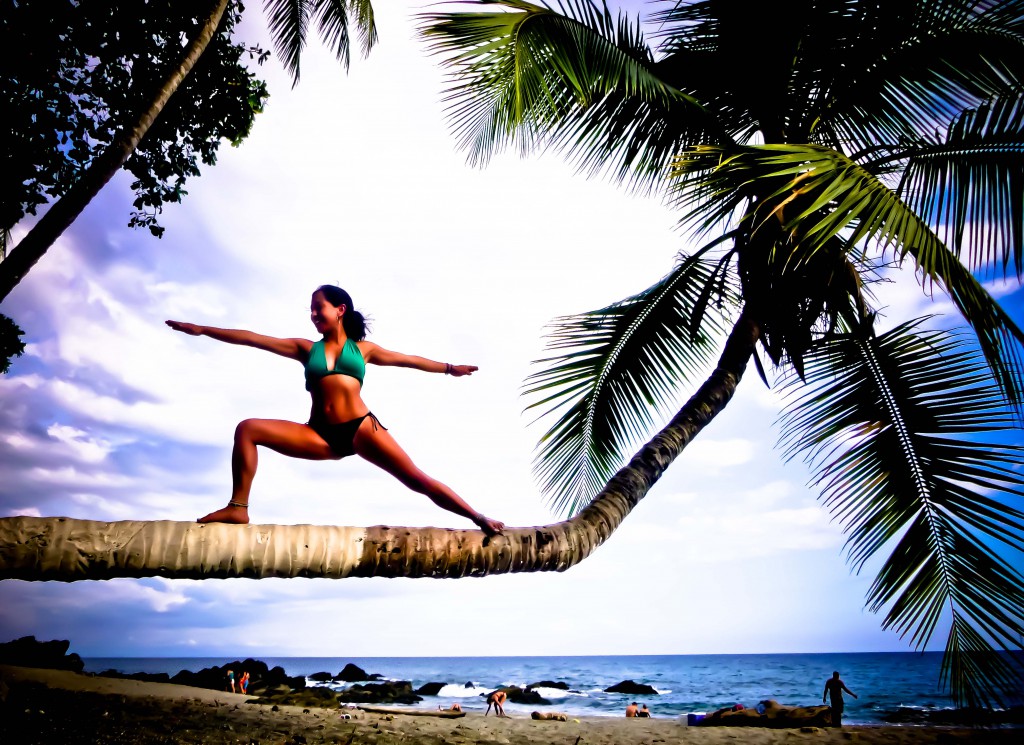 Yoga is a great habit to get into even if it's just for 15 mins. Learn a few Yoga poses or stretches and do them as often as you can and try to fit it into your daily routine. This exercise has many benefits such as increasing muscle strength, flexibility and helps to maintain a balanced metabolism which helps with weight and overall health.
One of our essential items at the moment are these massage balls. These things are a godsend for us!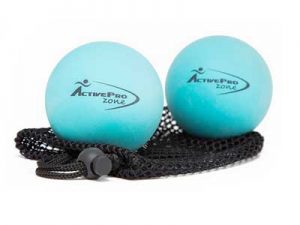 They work on getting out the tension in our muscles after those long drives or days sitting down working on the computer. All they require you to do is place the balls where needed and let gravity take over. Here are a list of exercises you may want to try out with them: Massage Ball Exercises – Trust us it works wonders!
Note: You could try to do these exercises with a tennis ball but it won't be as effective at getting that deep tissue massage for your muscles.
Van life can get hard and tiring at times. The stresses of constantly moving and finding places to sleep or not having a proper hot shower for days, can really take it's toll.
Start every day fresh by doing some kind of light (or heavy) exercise when you wake up in the morning. It will help to put your mind in the right mindset for the day and will keep your body happy too.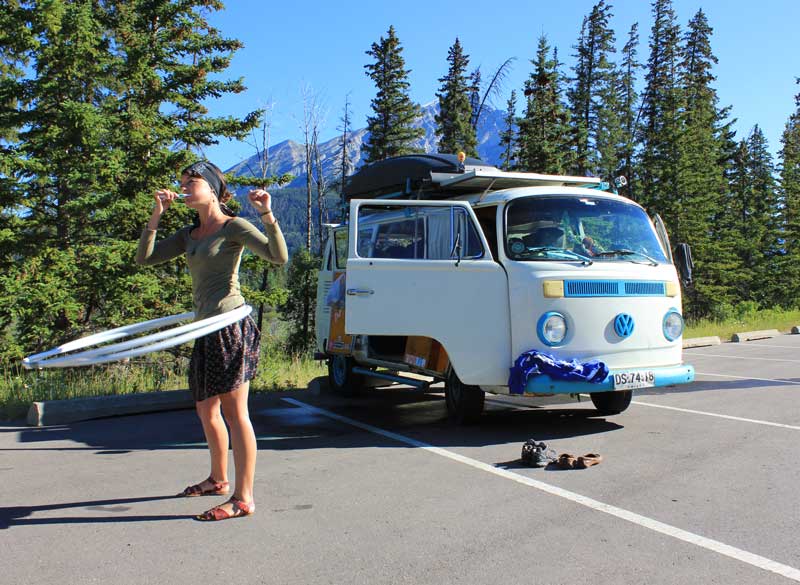 Get creative! Combine a bit of light exercise with your morning routine 
Keep it fun…
Explore Local Activities
Find FREE and FUN activities to do wherever you are –It's not exercise if you're having fun right?!
Whenever we rock up to a new town we are always looking to find what the locals do to have fun. Sometimes it's jumping in a lake, climbing a mountain or going to the local skate park. We get our skateboard out any chance we get and always find spots to get up our slackline.
This is a great way to meet the locals as well as getting a core balance workout! It doesn't take up much space and all that is needed are two trees. It can also double up as a tow rope and be used to strap stuff down.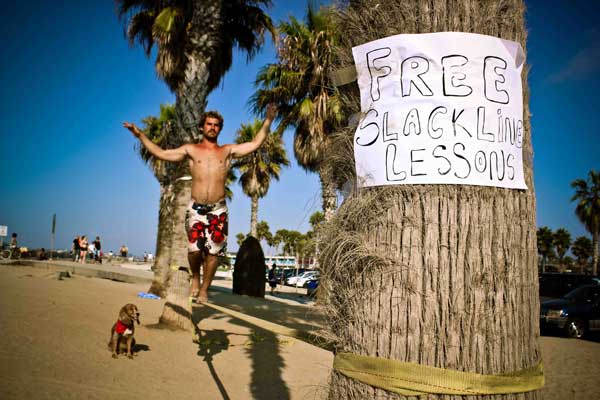 Websites such as Meetup.com or Couchsurfing will have events and activities that others are organizing. (Or organize your own activity). Find a surfing buddy or learn to fire twirl with a local. You'll be surprised at what and WHO you'll find out there. You could also look up what free community classes are going on in the local area. Some areas sometimes have free yoga or hiking groups.
If you don't like people and want to play by yourself, Hacky sacks and Juggling Balls are great to mess around with.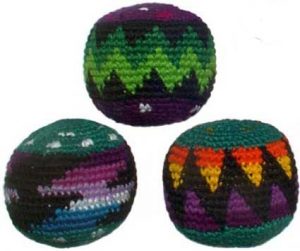 (Guys, this is a great way to impress the ladies. We all love a man who can juggle balls!)
So there really are no excuses for not getting your body moving. The best thing about this is they're all free!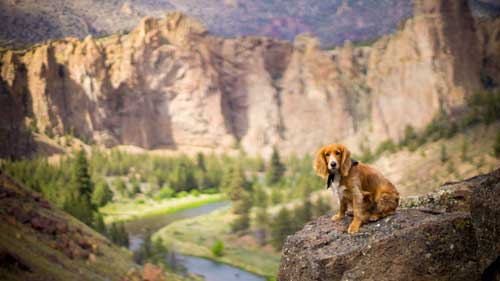 Hiking allows you to explore your surroundings in more depth and the dog loves it too!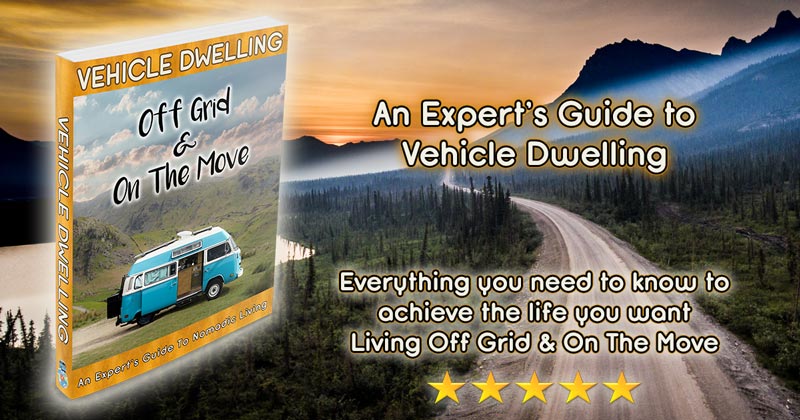 Food for thought…
EAT WELL
Just keep driving! Stopping at Fast food chains is easy and convenient but a bad habit to get stuck in.. 
It is HARD to make sure you are always getting the right nutrients and eating well on the road, but man is it important!
We don't know how to talk about gut health in a cool and interesting way so we're not going to bore you with the details.  The important thing to know is that your gastrointestinal health is linked to many other health issues including mental health. If you a prone to depression or anxiety it's really important to not let the stresses and often isolation of Van Life get to you.
The healthier your gut the stronger your immune system and your mind. If you need more proof have a read of this article on gut health that we though was pretty interesting. It may help to explain why eating well is key to the longevity of Van Life.
Cooking your own meals allows you to source local ingredients and create healthier meals, not to mention it's cheaper and healthier than eating takeout!
There are lots of ways to make sure that you getting the right nutrients and Fermenting Vegetables is one of them. The probiotics from fermentation is great for your digestive health and is quite easy to do. (And easy to store in your van)
Check out this post at Paleo Leap for lots of information on Fermenting Vegetables and a good selection of easy to do recipes.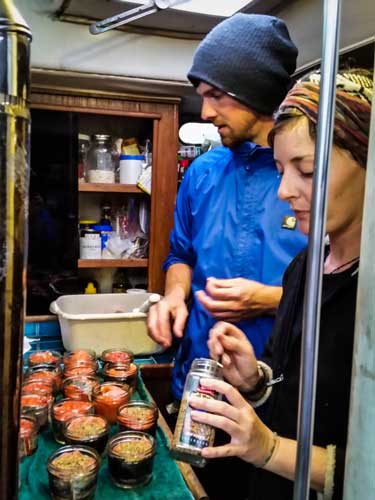 Jarring and preserving food is a great option to store healthy food in your van
Foraging is another great way to get fresh and free ingredients and it's a great way to learn about what's around you. You'll be surprised how many things you can actually eat and once you learn more you'll start to see free food everywhere you go. Just make sure to have a book handy and be careful what you pick!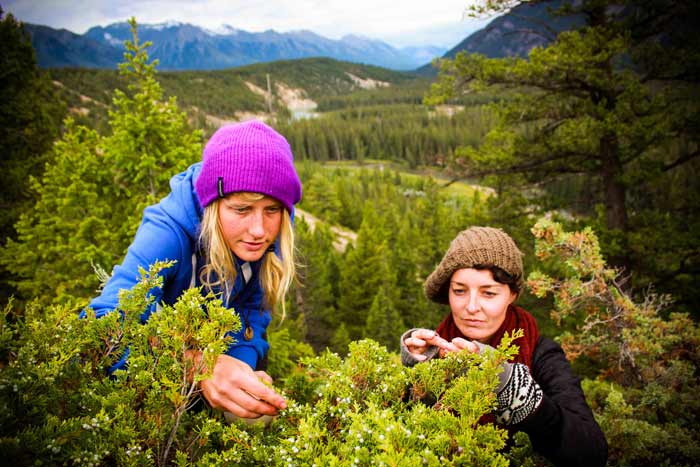 Try to stock up on can vegetables if your going to be away from fresh sources. There no excuses for not eating your greens. Smoothies are a great way to get your dose of fruit and veggies. It's even better when you buy cheap overripe fruit or when you need to use up your supplies. We use a low voltage blender in our van like the Hamilton Beach Blender 175watt which works with our inverter.
Don't worry…
Be happy
A Healthy mind is a happy mind! The road can be tough and challenging, so learn ways to keep happy and positive.
A healthy mind is key to happiness. Living in a small space can feel really crowded at times so being able to switch off and ground yourself is imperative for a healthy Van Life. Reading is one of the things that we make sure to fit into our daily schedule. It helps us switch off, learn, grow our wonder and awareness and reduces stress.
Change it up a bit by reading articles or choosing something you want to learn about and read about it!
Audio books with sites such as Audible are a necessity for us to have on the road. It helps pass the time and allows us to still have our 'reading time' on those long drives.
Being able to quiet the mind to ground yourself and stay focused is imperative to a long and healthy VanLife.
Meditation is something we try to do as often as possible. We should be doing this every day but honestly we don't, even though we know how much it improves our productivity and our moods.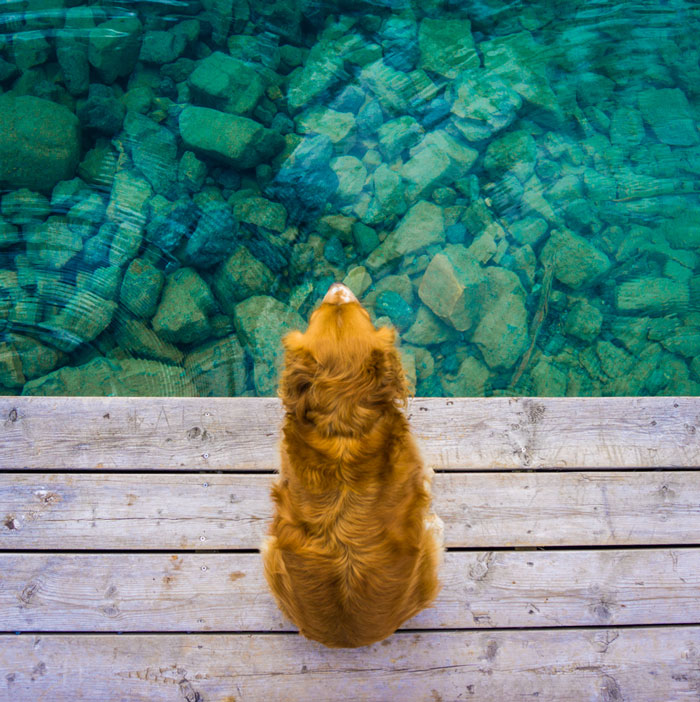 Meditation can take some getting used to but there are tons of apps that can help out such as HeadSpace. We have this app on our phone and guides us with our 10 mins of meditation day. It doesn't sound like a lot but that is all it takes to regain focus and clear the head clutter!
Being able to apply this everyday would significantly boost our energy and mood so it is on our list of things to improve on in order to keep ourselves productive, healthy and happy.
Share with us below, what works for you to keep your mind and body healthy when you are traveling and on the move?
RECOMMENDED FOR YOU: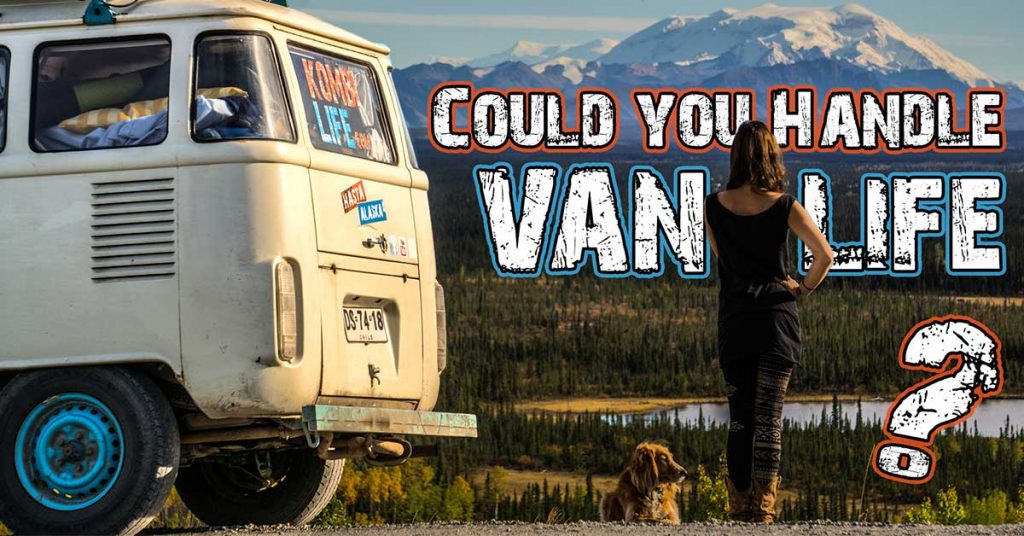 Check out our main Van Life page for loads of Van Dwelling tips and advice: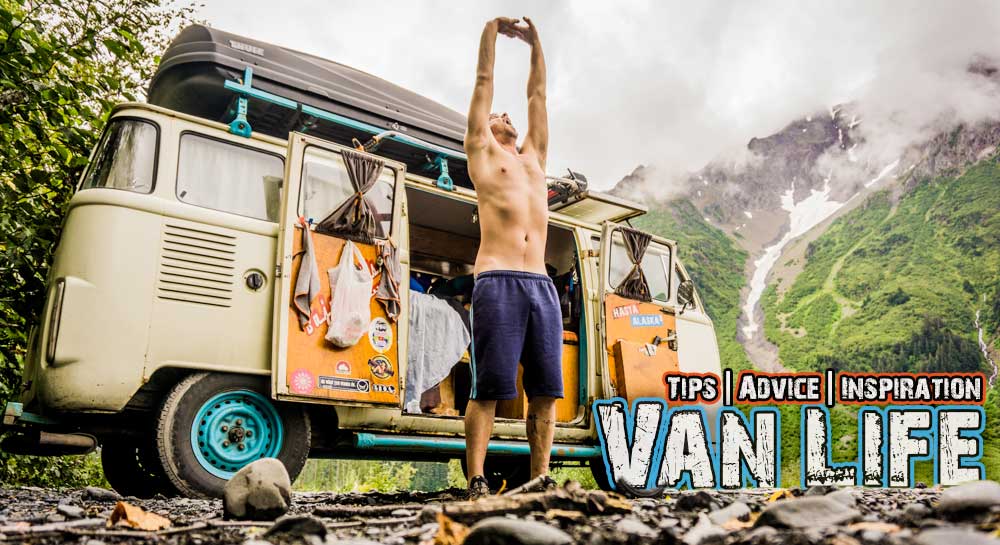 Tell us what you think?