Essential Van Life Security Gear
Security and Safety are the main concerns in Van Life. So after years of Overlanding the America's and driving around the world we have learned a thing or two about keeping ourselves and our gear safe and secure.
We keep this article up to date with new products that we hear about from our friends in the van life community. If you have an idea that isn't on this page please share it below in the comments.
---
DISCLOSURE:
This post contains affiliate links, which means that if you click a product link and buy anything from the merchant, we might receive a commission.
The price you pay remains the same with or without the affiliate link
---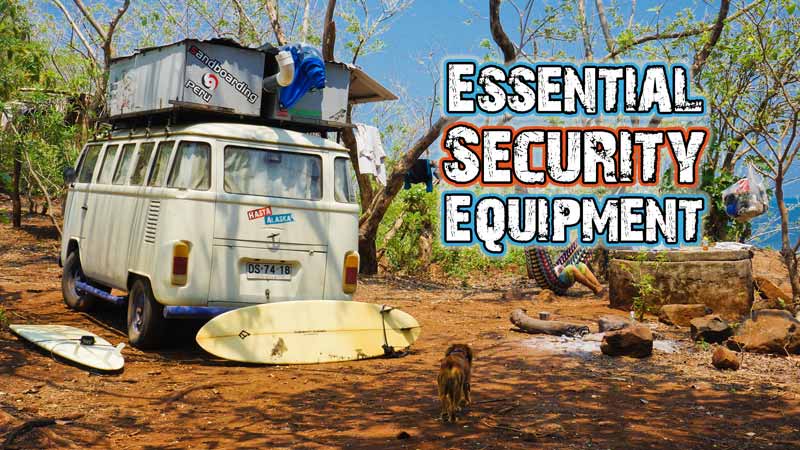 Below we have listed our Essential Van Life Gear for safety and security and explain
WHY

we need them.
Compact Vehicle Safe
Keeping belongings secure is on every mind when they're planning their Van Life adventure. Having your passport or credit card stolen can end your trip or at the very least, delay it for a long time.
Having a safe with a lockable steel cable can be hidden in your vehicle and give you peace of mind. We keep our important documents, money, spare keys, and credit cards in our safe that are not easily seen or found. This is by far the most secure thing in our adventure rig.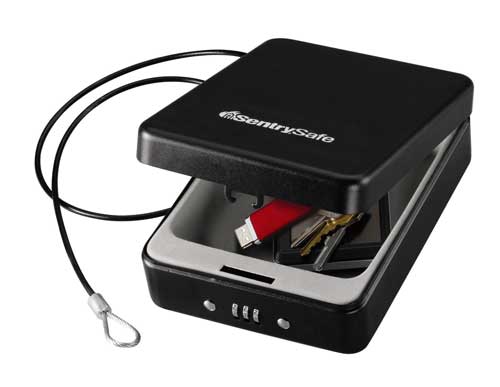 Prices on Amazon USA or Europe
Fixed Install Motorhome Safe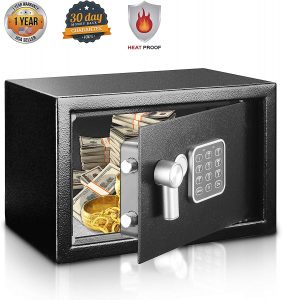 These larger safes need to be bolted into the vehicle and preferably in such a way that they are not easy to remove.  This one weighs around 9lbs but obviously, it is much more secure than the compact safe above, and according to the image on Amazon it comes filled with cash and jewelry!!!  On second thought, maybe we should buy more than one!?
Hidden Vehicle GPS Tracker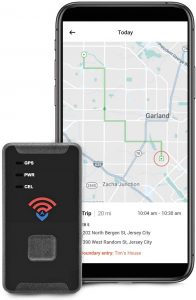 GPS Tracker to hide in your vehicle.  If the worst-case scenario happens and your adventure rig gets stolen, or your travel partner gets mad at you and leaves you stranded on the side of the road in your underwear, you'll be able to find out where your vehicle is…providing you have access to a smartphone of course?
Top Seller & Available on Amazon
Vehicle Alarm
Good Value option for an aftermarket vehicle alarm to help protect your investment.  Honestly, the additional peace of mind is going to be worth the small financial outlay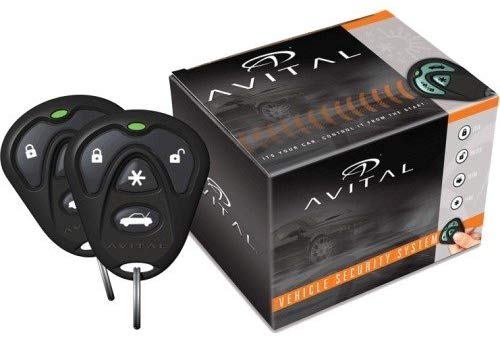 Winner of Best Value Aftermarket Car Alarm Award
Available here on Amazon (picture may vary)
Motion Sensor Vehicle Security Lights
Motion sensing lights are great as they can warn you when someone is approaching the vehicle.  They can be dialed down in sensitivity so that they only light up when people are really close.  This is especially useful both when you are leaving your vehicle unattended parked outside and when you are inside the vehicle.  We've had people try to put their hands through our open windows, or try the door handle at night on more than one occasion.  These lights would have helped in those situations.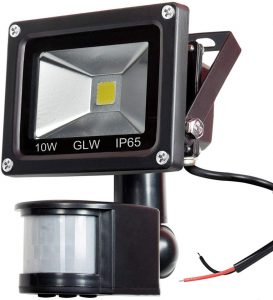 These ones are weatherproof, 10W LED (so definitely bright enough), and run on 12v (24v available).
Typically these would be mounted on a roof rack a require a cable to be run through your vehicle.
Other models exist that run on batteries and so don't require the running of any cables. Nice and quick to install!
12V Wired LED Van Security Light
Wire-Free LED Van Security Light
Rooftop Cargo Box
When you are on an Overlanding journey you are going to have a lot to lug around. Whether it's your sporting gear, surfboard, or camping equipment you will want it locked up safe and most importantly out of sight.
Most thefts are opportunistic so you don't want to forget about those items that are too big to hide inside your vehicle. Keep them locked up and out of sight!

European Options May Vary
Lockable Straps
Being able to strap down your gear onto your roof rack is great but not all straps will keep your things safe.
What makes these straps on our list of essential Van Life gear, is that they are lockable and durable. Meaning it is harder for someone to get through and break the straps.
Only lookout for ones that have steel cables through the straps to ensure extra security.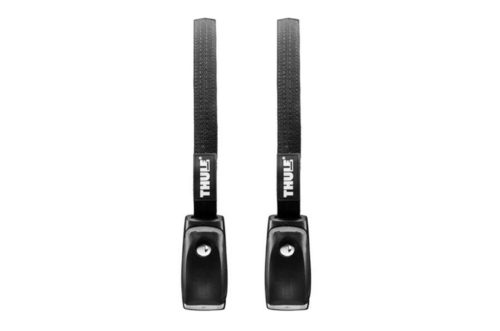 Steel Cable Thule Straps (USA)
Pepper Spray
We haven't had to use this yet (thankfully). But it does give us that extra sense of security when we are in unfamiliar and unsafe territory.
We keep ours hanging next to our doors so it's easily accessible if someone or something (yes it can be used on animals too) attempts to break into the vehicle while we are sleeping.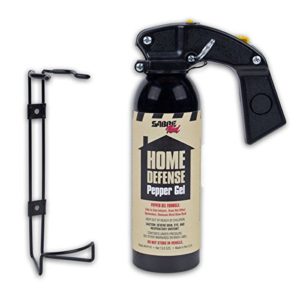 Police grade Pepper Spray on Amazon (US ONLY)
We also like these really compact pepper sprays.
Keep it in your bag whilst away from your vehicle and have it hidden in your hand out of sight but ready to use if a situation escalates out of control.
Much less threatening than holding a larger more prominent pepper spray bottle.
Heavy Duty Stun Gun Flashlight
Whilst we're on the subject of nonlethal weapons.  If you are NOT crossing international borders, this is a very discreet personal protection device.  A flashlight that also has stun gun functionality.
Please use responsibly and seriously, don't get caught with this in a place where it is illegal to own.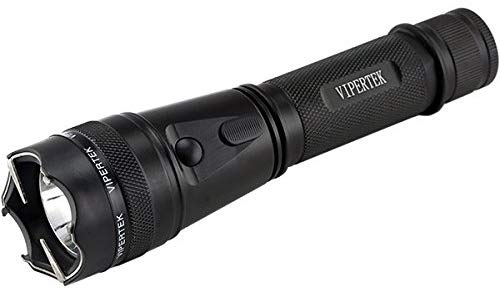 Available on Amazon, in the USA at least, click and see if it is available in your local store
Magnetic Lockable Key Case
This may seem like it should not be an essential Van Life gear item but trust us, it is.
How many times have you been locked out of your vehicle or gone surfing and didn't know what to do with your keys?
This is a great and cheap way to keep a spare key hidden. And if someone happens to have found your secret case, no need to worry, it's lockable so only you can open it!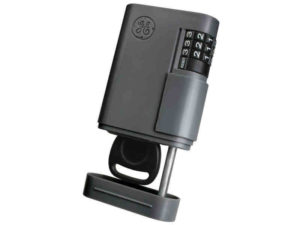 Watch this video as we discuss Keeping your belongings secure whilst living in a vehicle
The main valuables of any Van Life vehicle are usually stored on the roof. So what is stopping someone from taking your whole roof rack off?
Yes, it is one heck of a job to do so but it isn't impossible. When you have expensive gear such as solar panels and kayaks on your roof rack, they are all at risk of being taken.
If you can lock down your roof rack with some clamps this could save you a whole lot of money and ball ache.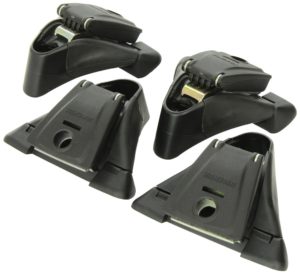 Set of 4 Yakima clamps on Amazon
Van Door Lock
For extra security, an additional lock can go a long way to discourage lock pickers. Most older vans have pretty poor security so an after-market security lock is a great way to give yourself peace of mind.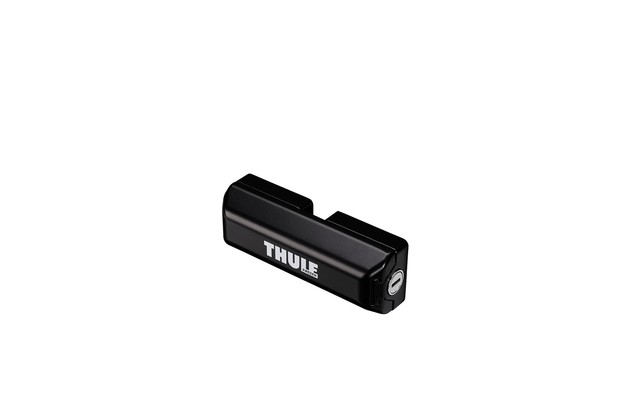 You can find Thule's Van Lock at their Website

Here is an alternative (and more secure) style
Fire Extinguisher
Just like you would in your home, you should think about having one of these in your vehicle if you don't already. You never know when a fire may start but you do need to be prepared for it. The best ones to have are ABC extinguishers, as they can put out most types of fires. Class A for trash, wood, and paper, Class B for liquids and gases, and Class C for energized electrical sources.

Amazon has a huge selection of ABC Extinguishers 
Off-Line GPS Navigation
This was not an essential Van Life gear item for us until we got one. Now, we have no idea how the hell we survived without one.
We use this almost all the time when we are Overlanding and the main reason we use it is for safety.
Van Life requires you to find new places to sleep and camp in unfamiliar areas. A GPS helps us find safe spots to park overnight or directs us to places such as police stations (if we feel really unsafe) or gas stations when we desperately need to fill gas when we missed the last gas stop in the town before.
WANT A FREE OFFLINE GPS SOLUTION? 
Watch our Van Life Tech Series learn more about the free tech that is available for Van Life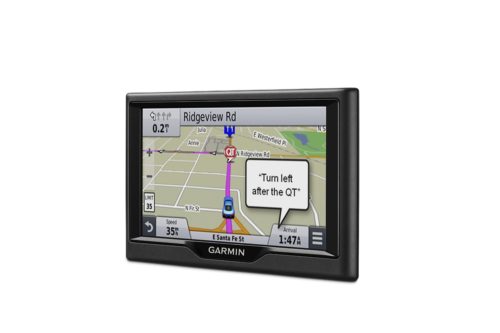 Amazon Garmin GPS 
---
RECOMMENDED FOR YOU:
We sat down to discuss our top stories and advice on overland travel and safety with

Adventure Experts

. So YOU can learn from the best!

Some of these links are affiliate links that don't cost you extra but help us keep making content.
Share with us what you can't travel without so we can all help out our fellow Overlanders
Tell us what you think?