News
What's happening right now?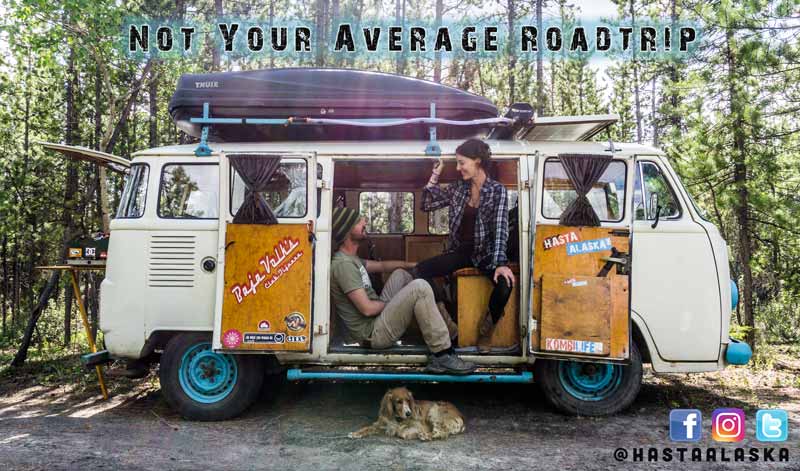 Like the Hasta Alaska Facebook Page for a daily feed of recent dramas and discoveries from the adventure.
Hasta Alaska
Sunday, January 15th, 2017 at 11:13am
Bev Woodbridge
One of our trips up the NSW coast saw us needing some mechanical help. We both had pretty well paid jobs and in our fifties. We were refused the help because "kombi people don't pay!" We were then not allowed to fill up our own tank at a self serve because apparently Kombi owners drive off without paying. The owner of the petrol station ran out to the van before we could even take the petrol cap off!
Fraser West
Nomadic adventurers fits better, thanks for inspiring us. Maybe someday the world will catch up and the stereotypes for kombies will die!
Antonio Stanton
I always try to talk to people about fishing, so they dont think I'm just smoking pot around the country.
Kathleen Hinegardner
Or you can be enterprising young people enjoying life. Enjoy what you are doing and have fun at it.
David Anthony Smith
I just wouldn't tell anyone shit about my situation when buying groceries or paying for campsites , I would just tell most land anchors that I am just travelling to visit my sick dying parent in another state or some such , I say bugger their curiosity, but hey more power to anyone living a fear free life , good on you 🙂
Celia Skala
No way Ben, what u have been doing is the real meaning of living. I am trapped in the Matrix.
Josh Berger
Your level of patience through all of your engine rebuilds is legendary.
Morgan Mains
8. That you'll somehow end up living down by a river.
Larry Brown
It's ok to live a life others don't understand
Shane Ness
Heard all of it on numerous occasions. Water of a "dirty hippies" back now-a days. I put my Kombi in to get some work done and the bloke, who I might add was a Volkswagen specialist didn't think I was going to pay and took ages to do the work. Saying that, I did get a free shower at servo in the middle of Australia once, what does that say???
Harry Earnshaw
Luna-May Hart
---

Follow the adventures of the world's most adventurous dog to see how the journey is from a different perspective!
---
K9 Adventure Time
Saturday, January 21st, 2017 at 3:47am
Jason Reddick
WHAT DO YOU MEAN YOUR ARE GIVE MY DOG HOUSE AWAY!
Larry Brown
What's an Alarm clock?
Emily Donham
That gif is a terrified dog!'
Dorothy Middleton Hill
😊😊😊😊💖xx