News
What's happening right now?
Right now we are in post production of the Hasta Alaska series.  We are in Mexico, working really hard to produce the videos that we've been filming.
Subscribe on YouTube so that you never miss an episode.
Join our Newsletter if you want notifications in your inbox of new videos and
Join the Kombi Crew on Patreon if you want to help us create this series.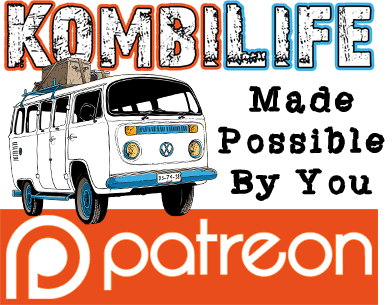 Hasta Alaska
Thursday, April 27th, 2017 at 3:20pm
Patty Skinner
You've inspired me. I'm selling my house quitting my job fixing up my v-dub and me and my 3 dogs are hitting the road. Just can't say thanks enough to you. Hopefully I'll run into you someday
Justin Barry
How about that time you said you planned to give away the bus. How did that go
Chris Hoover
Awesome - next 1 MILLION! I would not be surprised.
Sergio Damian Verdejo
Hey Ben how old is Alaska now....
Jehu Garcia
Congrats on 100k!
John Rosenberger
How much to subscribe
Jason Kill
Well done Ben! Not surprised though, you entertain, you inform, you make us laugh and we feel for you in the low times.You inspire us and help us dream. All through great filming, editing and being honest. Thank you for taking us on the journey and sharing the adventures. Amazing work Kombi Crew!
Steve Wälchli
About time! I'm surprised it took so long with the quality content. Watched since the beginning, looking forward to travels never ending.
Alex J Pearce
I'm stoked ,I'm so happy for the 3 of you...so AWESOME!!!! Keep up the awesome adventure...
Peter Mahler
Your channel is much better than some of the ones that have gone Hollywood like sailing la vagabon they sold out
Richard Mulder
Congratulations Ben and thanks for sharing the adventures
Tjay Sughrue
Awesome achievement. Happy for ya, and thanks for all your hard work and sharing your adventures with us.
Urvi Sodha
Need to be on trip with you guys and say hasta lavista to everything else
Emily Jane
Huge congratulations you guys!
Rich Toponce
Thanks for allowing us to follow
Brian Zibilich
Hell to the yes!!!!
Max Nicolai
Quite the milestone! Followig since the beginning
Ania Ania
CONGRATULATIONS!!
Ramblin' Dawgs
WOOO! Congrats!
Christopher Camacho
Like!
Heather Teles
Yaaaay knew it would happen!
Jim Arnesen
Had a 68 Ford Econoline with a raisable screened window roof. Got 335,000 miles before I sold her. Great memories and places.
Nicholas Reed
To bad your more worried about getting likes and more money so you can travel that you forgot the trip wasn't about money. Now if someone doesn't donate to your cause you completely ignore them. Was a huge fan but now all I see is two people trying to start a business....
Bonnie Middleton
Well done guys! Hope things are starting to fall into place for your next adventure! 😀
---

See the journey from a different perspective!
---
K9 Adventure Time
Wednesday, April 26th, 2017 at 3:46am
Dorothy Middleton Hill
We are still here Ben how do I see you on u tube and do I have to pay not to good with technology stuff but 70 this year so sure you can forgive me love AD xxx
Korastel Nuogred
when you start Africa adventure tour ?
Familia Jewgeniuk
Que belleza quiero tener una manada asi...
Kathleen Hinegardner
Oh Yeah !