Carbon Monoxide and Natural Gas Detectors
When living in a vehicle a confined space such as a vehicle it's important to keep yourself safe from CO and Natural Gases especially if you have heaters, a fridge, or a cooker that uses propane. Not only is good ventilation required but appropriate campervan carbon monoxide detectors should be installed in your vehicle also; your life could literally depend on it.
Carbon monoxide sensors can be sensitive and may respond to steam and condensation as well as hydrogen gas. When charging lead-acid batteries the alarm may go off due to the hydrogen (H2) gas that is produced so consider where you install your detector and keep your battery well-ventilated.
What is Carbon Monoxide?
Carbon monoxide is an odorless, colorless, and tasteless gas that is nearly impossible to identify without a proper detector. It is caused by fuels not burning completely, including wood, gasoline, coal, propane, natural gas, gasoline, and heating oil. CO gas is created when flammable gas is burned without enough oxygen.
Most detectors won't detect unburned Natural Gas or Propane unless labeled that they do!
What is Natural Gas?
An explosive gas leak detector is a device used to detect flammable gas leaks in objects, such as Methane, Propane, and Butane. Carbon monoxide detectors will not detect this, thus the device is often recommended to complement the CO detector.
Combination explosive gas leak and carbon monoxide detectors do exist, however, we found it difficult to find many that can be powered by 12-volt batteries (which we prefer). 
The good news is that the batteries on these devices last a very long time (up to a decade) and you might prefer the convenience of not having to hard-wire in another device.
Carbon Monoxide and Explosive Gas Detectors
The risk of carbon monoxide (CO) poisoning goes up when you use fuel-burning appliances, and propane (LPG gas) is found in many RVs and campervans.
This 2-in-1 alarm gives you early detection and peace of mind from the possible dangers of both gasses.
Atwood 12 Volt CO and Propane Gas Detector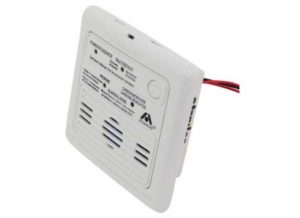 Atwood RV Carbon Monoxide and Propane Gas Detector – 12 Volt – Etrailer.com
(the downside is that it's rather pricey – better options available below)
Safe-T-Alert Combined Carbon Monoxide and Propane Alarm 
Hard to find in Europe (sorry)
This double-duty alarm detects both propane gas leaks and Carbon Monoxide gas simultaneously
Compact, flush mount alarm uses the latest microprocessor technology to sense potentially dangerous levels of propane, carbon monoxide, and methane gases.
Powered by your 12v leisure battery (so no dead batteries to worry about)
Memory feature "remembers" the amount of carbon monoxide that activated it.
Includes a 12-volt relay that closes the gas solenoid valve included in the kit.
Carbon Monoxide (CO) Detectors
Cheapest Battery-Operated Carbon Monoxide Alarm Option

Amazon (US)
Amazon (European Option)
Very easy to install.  This budget Carbon Monoxide detector uses a stand-alone battery so there is no need to run any wires. 

The front-load battery door allows you to change the battery without removing the alarm from the wall

It doesn't detect smoke or natural gas/propane
Carbon Monoxide and Smoke
Combination Alarm
(recommended!)
First Alert Combined Smoke and Carbon Monoxide Alarm
Kombi Life Top Pick (Wireless) ⭐
The First Alert carbon monoxide alarm uses an electrochemical carbon monoxide sensor, one of the most accurate technologies available. It runs on batteries so you don't need to have it permanently plugged into your power source. Battery-operated detectors are easier to install, but they require periodic maintenance and must be reset manually if they are triggered.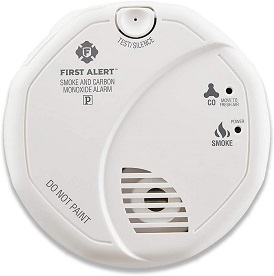 (also available in Europe here and it's not expensive, nice!)
Battery-operated carbon monoxide and smoke alarm combined in one

Uses an electrochemical carbon monoxide sensor–the most accurate technology available

Simple to use silence/test button, low battery warning, end-of-life timer

1-9V Battery (included) power source, very easy to install
Portable Explosive Gas Detector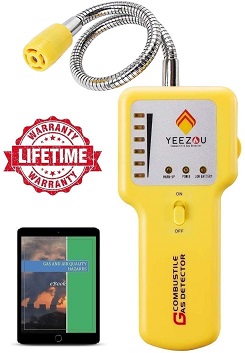 Natural Gas Detector available on Amazon
Also available here in Europe
A handheld natural gas detector is sensitive, reliable, and easy to operate; detects LNG, LPG, CH4, methane, and butane gas

The gas detector has an LED light that indicates how severe the gas leak may be; green signals on, yellow indicates 200-Ppm, red indicates 500-Ppm

The gas leak detector comes with pre-calibrated

Unlike other natural gas leak detectors, this one is compact and lightweight and can be taken on the go, allowing you to run periodic tests on your appliances before the leak gets into your living area.
Portable CO Detector

See how clean your appliance is really burning its fuel with this handheld carbon monoxide tester.
Available on Amazon in North America and Europe
A quick note on Carbon Monoxide Safety
If your carbon monoxide detector's alarm goes off, immediately get some fresh air and ventilate your vehicle by opening the doors and windows and turning off all potential sources of CO. Check to see if anyone is experiencing symptoms of CO poisoning. Symptoms include headaches, fatigue, nausea, dizziness, feeling faint, and shortness of breath.
---
Recommended Article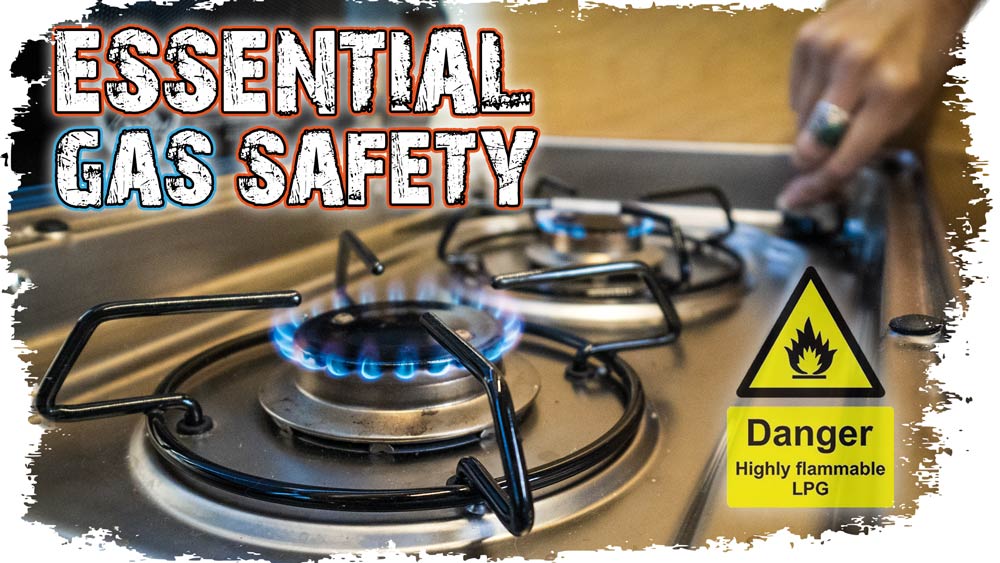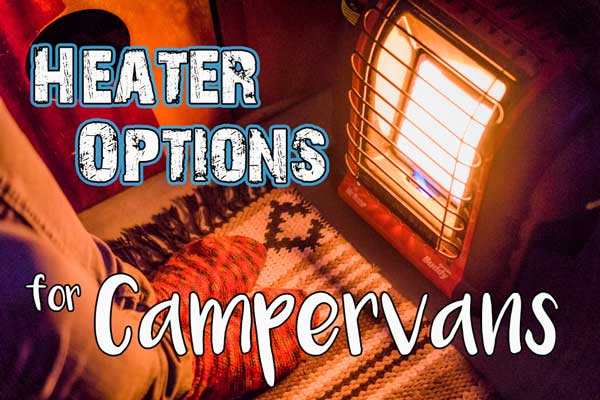 Check out our article on Heater Options for Campervans
If you have any tips or stories about Carbon Monoxide please share them with the community down below
There are Amazon affiliate links in this article 
Browse more Posts on Tiny Mobile Living in our Van Life Section
Tell us what you think?